Need for Speed Carbon Downloads
2003 Mitsubishi Eclipse GTS Spyder 2F2F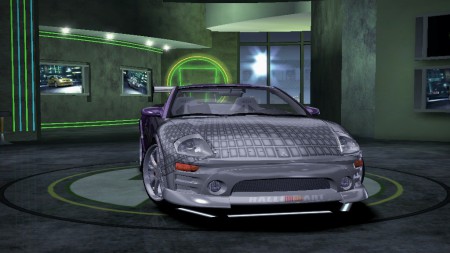 Version Carbon
Brand Mitsubishi
This car replaces Mitsubishi Eclipse GT (ECLIPSEGT)
2003 Mitsubishi Eclipse GTS Spyder 2F2F
This car is converted from GTA IV and it replaces Mitsubishi Eclipse GT.
Can be customized with:
- Performance
- Window tint
- Ride height
- Rim paint
- Spoilers
- Rims
Features:
- NFSUC driver model
- Working brakelight texture
- New performance data
- Scratches
- 2 styles of neon in body kits(flashing neon works only in safehouse)
- Working LCD's in interior (works only in palmont car shop)*
*but, you can install mod, that replaces all safehouses\car shops to Palmont Car Shop(http://nfs.com.ru/downloads.php?view=2081)
INSTALLATION
1. Unpack all files.
2. Run Install.exe and select NFS Carbon main directory.
3. With NFS TexEd, open FRONTEND/FrontB1.lzc and find textures with ID 98 and 261. Replace these with the provided textures from archive. Save.
CREDITS
THQ, Turn10 - mesh & textures
N-Speak - sources from GTA IV mod
nfsu360 - NFSC ModTools
RENESiS - GlobalEd & installer
Oleg Melashenko - ZModeler 1.0.7.& 2.2.5
Eclipse 72rus aka CorvetteZ06 - converting to NFS Carbon.