Need for Speed Carbon Downloads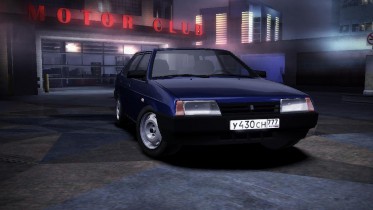 Author:
Eevee
Added on: March 3, 2020
Viewed: 251 times
Downloaded: 29 times
Favorited: 0 times
Share this car:Click to copy URL
This car was converted from Lada Racing Club, World of Speed, GTA San Andreas and Virtualniy Tuning ot Vosmerki do Kaliny by YochiThMaster333 aka Eevee (me).
Replaces: Nissan 240SX
Tuning:
Performance
Front Bumpers
Rear Bumpers
Side Skirts
Hoods
Roof Scoops
Spoilers
Muffler Tips
Bodykits
Rims
Paint
Vinyls
Window Tint
Ride Height
Window Decals (debug mode required)
Features:
NFS:UC driver model
Working brakelights
Stock blue color
Known bugs:
How to install:
Run NFS-VltEd, then click "File - Open" and look for NFS Carbon game directory
Then click "File - Import - ModScript", pick Vaz21099nfsc_setup.nfsms and click "Install". Save.
With NFS TexEd, open FrontB1.lzc, find textures ID 47 and 160, and replace with CARSELECT_MANUFACTURER_NISSAN.dds and SECONDARYLOGO_240SX.dds respectively. Save.
With Labrune, open your language file, find string ID 12, and change it to Lada Samara 21099. Save.
Run the game and choose Nissan 240SX. Lada Samara 21099 will be visible instead of Nissan 240SX.
FAQ:
Q: What is game directory?
A: That's the folder where your NFS Carbon installed
Uploaded on:
nfsaddons.com (this site)
nfscars.net
Please don't reupload to these sites.
Thanks to:
nfsu360 for his NFS-CarToolkit
Oleg M. for Zmodeler
SlideX61 for some parts from his Lada 2108 mod for Shift 2
XMENT for some parts from his Lada 2109 mod for GTA San Andreas
Damage
Convertible
Dashboard
Class
Vidwall
Serial #
Windows
Licence Plate
Top Speed
0 mph
0 kmh
Polycount
0