Need for Speed The Need For Speed II Downloads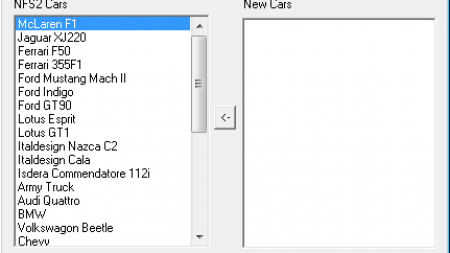 ======================
NFS2 CAR MANAGER v1.0
======================
-------------------------------
Copyright 1998 - Anthony kruize
26th January 1998
-------------------------------
NFS2 Car Manager is a program that makes it easy to change the cars in
Need For Speed II(SE). It also makes it easy to keep track of which
cars have been changed and which ones are still the originals.
Of course it also allows you to restore the original cars.
You will need the following to use NFS2 Car Manager :
- Windows 95
- Need For Speed II (SE)
- The original CD (which of course everyone has) to restore
the original cars.
Once you have unzipped NFS2 Car Manager into a directory, copy all
your new cars into the same directory. This is important as NFS2CM
only looks in it's directory for new cars.
When you run NFS2CM for the first time, you will be asked to fill in
a few details. These include :
- NFS2 Directory : Simply enter the directory where you have installed NFS2.
- CD-Rom Drive Letter : This is for when you need to restore the original cars.
- Do you have NFS2 SE : Check the box if you have NFS2 SE, if you don't simply leave it unchecked.
To Change a car :
Select a car to replace in the NFS2 Cars box, select the new car in
the New Cars box, hit the arrow button, and you are done.
That's all there is to it.
The new cars filename will appear next to the original car so you
can easily see which ones have been replaced.
***** TIP *****
Cars made from civilian cars can be copied over any civilian car,
but not a player car. Cars made from player cars can only be copied
over the same player car that it was made from.
***************
To Restore one car only :
Select a car to restore in the NFS2 Cars Box, make sure the
NFS2 CD is in your CD drive and hit the RESTORE button.
To Restore all the cars :
Make sure the NFS2 CD is in your CD drive and hit the RESTORE ALL
button. All the cars will be restored back to the originals.
THE FUTURE
----------
- Add support for track managing. (will have to change the name then)
CONTACTING THE AUTHOR
---------------------
You can email me at the following address :
trandor@alphalink.com.au
Please feel free to send me any comments, questions, suggestions,
or bug reports.
LEGAL STUFF
-----------
Need For Speed 2 and Need For Speed 2 SE are copyright Electronic Arts.
You may freely distribute this program, as long as all the files are
included without modification. You may not include this program on
any commercial release without prior consent from myself.
I am in no way responsible for any damage, loss of data, or any other
result direct or otherwise from the use of this program.
Use at your own risk.
===============================================
The Need For Speed ONLINE -- www.nd4spd.com