Need for Speed Most Wanted Showroom
Raverz12345's Bugatti Veyron 16.4 2005 (Added Car)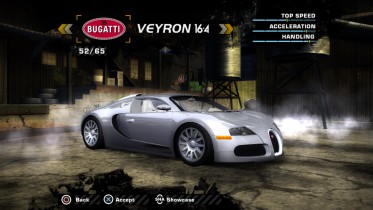 Car converted from NFS Pro Street & made by McLaren_3Dcm (Requested by sriram2345, new Secondary Logo made by Neon)
Recently replace Ford GT & added by me.
All customizations, performance & visuals EXCEPT for Spoilers due to issues in Recompiler... So, I took them off in its config file. It will be made unused for Random Opponents, cuz it may have skinless body on the car in the race. CarSkinFix in ExOpts CANNOT help either. You're the only one to use this Veyron on every races.
Release? I need to ask the author first for permission..