Need for Speed Underground 2 Downloads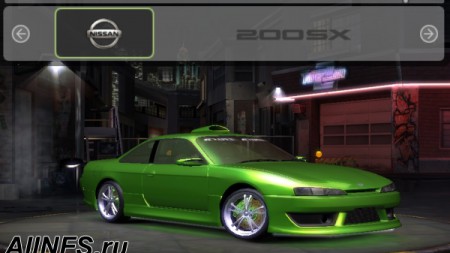 Version Underground 2
Brand Nissan
This car replaces Nissan 240SX (240SX)
The Nissan 200SX is converted from the NFS Shift game and replaces the 240SX.
Tuning:
-Body (4 pieces)
-Air intakes
-Wheels, spinners
-Mirrors
-Perfomance
-Deches on glass
-Exhaust pipes (stock and 1.2 body)
-Painting on the body, wheels, spinners, etc.
-Toning
-Neon the bottom of the car
-Burging N2O
-Appliances
-Vinyls (see sponsors)
-Light headlights
How to install: 1) Extract the 240SX folder to the folder ... / Need For Speed ​​Underground 2 / CARS
2) Using the NFS-CfgInstaller program, install the 200SX.u2car file
3) Using the NFS-TexEd program, open the FrontB.lzc file at Need For Speed ​​Underground 2 \ FRONTEND, replace line 288 with the file of the same name from the archive.Save.