Need for Speed Underground 2 Downloads
2000 Nissan Silvia S15 D1GP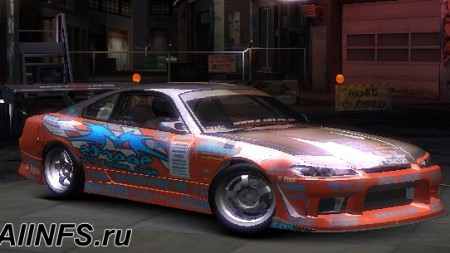 Version Underground 2
Brand Nissan
This car replaces Mazda RX-8 (RX8)
A car is an exclusive for the nfs-action.ru site;
posting on other resources is strictly prohibited.
Description:
Car for NFS: Underground 2, converted from Race Driver: GRID.
Replaces RX8.
Tuning:
-Body (racing skins)
-Exhaust pipes
-Air intakes
-Wheels
-Painting discs
-Equipment
-Hydraulics
-Perfomance
-Neon bottoms
-Blowing N2o
-Front optics light
How to install: -Extract the RX8 folder in the CARS folder in the game directory.
-NFS-CfgInstaller install s15.u2cfg file
- Use the NFS TexEd program to replace the file number 88 in the frontB.lzc file with the s15_logo.dds file from the archive.
-Enjoy;)