Need for Speed Underground 2 Downloads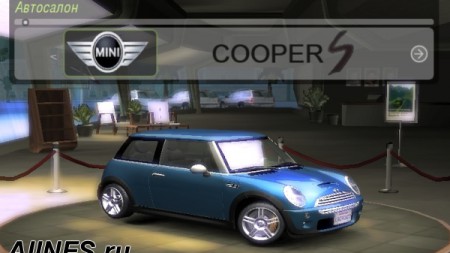 Version Underground 2
Brand MINI
This car replaces Peugeot 106/206 (PEUGOT)
Car Mini Cooper S. Replaces Peugeot 206.
Tuning:
-Wheels -Spoilers
-Air
intakes
-Exhaust pipes
-Doors
-Nitrous oxide purge
-Neon
-Spinners
-Perfomance
-Tinted
-Paint (body, wheels, brakes, exhaust pipes)
-Light headlights
Features:
-Excellent study of the interior of the car
-Driver from NFS undercover
-Brembo brake system in stock
How to install: 1) Extract the PEUGOT folder in the CARS folder of the game.
2) Install the Mini Cooper S.u2car file using the NFS GfgInstaller program.
3) Set auto logos. To do this, use the NFS TexEd program to open the FrontB.lzc file and import the mini logo.dds file into line 380, then find line 102 and import the cooper s logo.dds file into it.Save.
4) Replace the name of the car with NFS LangEd. Open the English.bin file and find line 69 and rename the contents to Mini Cooper S. Save.