Need for Speed Underground 2 Downloads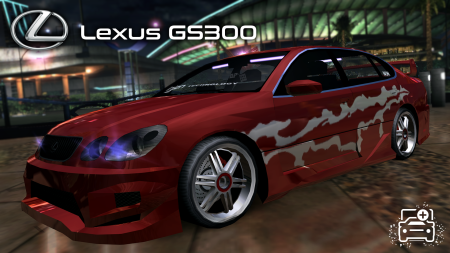 Views 1,282
Downloads 130
File updated on: May 24, 2023
This car replaces None (Addon car)
Lexus GS300 [ADDON] for NFSU2 v2.0.0
created by moses
---
MOD TRAILER
https://www.youtube.com/watch?v=PjsKrlh1dEk
--[OVERVIEW]--
This mod is built to recreate the style of vanilla NFSU2 cars
as well as including all of their respective vanilla visual parts & features (& more)
All of the parts in this mod are hand modelled by me,
except for the bumpers and engine which are taken and fitted from the IS300
Do not add this mod in any modpacks without my permission
--[CUSTOMIZATION]--
This list includes stock parts
Body Parts:
Front Bumper - 26 Parts
Rear Bumper - 26 Parts
Side Skirts - 26 Parts
Fenders - 3 Parts
Rear Quarter - 2 Parts
Spoilers + No Spoiler Option
Hoods - 24 Parts
Trunks - 2 Parts
Roofs - 3 Parts
Roof Scoops
Headlights - 11 Parts
Taillights - 11 Parts
Side Mirrors
Exhaust
Rims - 3 Optional Rims
Carbon Fiber
Wide Body Kits - 4 Parts
Attachments - 4 Attachments (Hanging Mirror Accessories, Bayview's Best Plaque, Interior Gauges, Roof Top Signs)
Vinyls & Specialties:
Vinyls
Decals + Hood Decals & Extra Window Decals
Neon - Exterior, Cabin, Trunk, & Engine
Window Tint
Lights
Nitrous Purge
Hydraulics
Spinners
Trunk Layout - 4 Parts
Split Hoods - 5 Parts
Doors
--[REQUIRED FILES]--
Binary v2.8.3 - https://nfsmods.xyz/mod/1638
NFSU2 Unlimiter - https://nfsmods.xyz/mod/1588
--[INSTALLATION]--
Install NFSU2 Unlimiter & Binary
Extract the mod folder to any location
Run Binary v2.8.3 as an Administrator
Click on User Mode (the left option)
In the Binary file selector, go to the extracted mod folder and select "ModInstaller.end"
Select the NFSU2 directory you want to install the mod to
Select "Install Lexus GS300 [ADDON]"
When Binary asks to save files press Yes
The mod should now be installed
Make sure to create a new save file after installation
--[CREDITS]--
nfsu360 - NFS-CarToolkit
MaxHwoy - Binary v2.8.3
nlgxzef - NFSU2 Unlimiter
EA Black Box - IS300 Textures & Meshes
AJLethal - PARTS_ANIMATIONS.BIN Tutorial
If you have any questions/issues/suggestions message me on Discord - moses#7912
Version 2.1.0

uploaded May 24, 2023

moses uploaded a new version. The new file is 16.75 MB.

May 24, 2023
Features:
Completely re-tuned and improved car performance (Done by RedCarDriver)

Initial version

uploaded March 29, 2023

moses uploaded initial version. The original file is 16.75 MB.