Need for Speed Underground 2 Downloads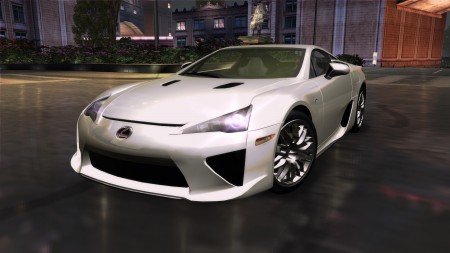 Views 2,464
Downloads 625
This car replaces None (Addon car)
2012 Lexus LFA
Special Thanks to:
-Forza Studio 4.6: Make Davis & JYSB59
-Forza 4 Studio: Ernegien
-S.S.T®: for helping me A LOT in the process of conversion of this mod
-3D Model, textures: DMN (gamemodels.ru) for ripping the 3D model from Forza Motorsport 4 and Forza Horizon
-NFSU2 ModTools, NFS-TexEd 1.7 and NFS-CfgEd-1.0: nfsu360
-ZModeler 2.2.5, ZModeler 2.2.1 and ZModeler 1.07b: Oleg
-Labrune v1.0.0.402: nlgzrgn
-Binary v1.0.4: MaxHwoy
Tools used:
-Forza Studio 4.6
-Forza 4 Studio
-ZModeler 2.2.5
-ZModeler 2.2.1
-ZModeler 1.07b
-NFSU2 ModTools v1.2
-NFS-CfgEd 1.0
-NFS-TexEd 1.7
-Binary v1.0.4
-Labrune x1.0.0.402
-Adobe Photoshop CS6
Features:
-Modified performance: In its stock form this car has a similar power as the real car, stock speed limiter increased to 203 mph/326 km/h
-Nürburgring Package rims as stock
-Stock LFA brakes
-V10 sound!
Update 04/05/2020: Fixed handling and downforce issues in the maxed car. Fixed a bug that Binary don't allow to install the LFA.bin
Can be customized:
-Windows tint
-Color
-Rims
-2 modified front bumpers (Nürburgring Package front bumper included)
-3 optional wings (available in rear bumpers section, Nürburgring Package wing included)
-rollcage (available in skirts section)
Replaces: Nothing! It's an addon
All the instructions to install this mod in the "INSTALLATION README!!!.txt"
NOTE: If you're going to download and install this mod be sure you have installed the latest versions of NFS Underground 2 Unlimiter,NFSU2 Extra Options,NFSU2 Car Sound Tuner andGlobal Memory File Fixed for a better experience.
NEXT RELEASES:
-1967 Shelby "Gone in 60 seconds" GT500 Eleanor [FINAL EDITION] (Yes, let's make the final update of this mod once and for all… And maybe making it an addon, stay tuned)
-1980 Cadillac Coupe Deville
-1979 Chevrolet Monte Carlo
-2016 Land-Rover Range Rover Evoque Coupe HSE
and more…
Follow my colleagues and me in our blog and Facebook page:
https://nfsprolatammods.blogspot.com/
https://www.facebook.com/NFSU2ProLatAm/
Enjoy!