Need for Speed Undercover Downloads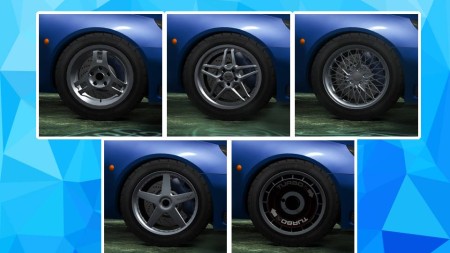 Added On February 16, 2023
File updated on: February 17, 2023
This car was converted from Forza Horizon 4 by YochiThMaster333 aka Eevee (me).
Replaces: All Concept Hayes rims
Included rims:
Advan Super Advan SA3R (replaces Concept Hayes MO5)
SSR Formula Mesh (replaces Concept Hayes MO6)
Veilside Andrew Racing V (replaces Concept Hayes MO7)
Blitz Technospeed Type 03 (replaces Concept Hayes MO8)
Zender Turbo 2 (replaces Concept Hayes MO9)
How to install:
Run Binary v2.8.0 as an administrator, click on red (User Mode) icon, then pick Rims.end and look for NFSUC game directory (ignore the errors if there are any)
Run the game. If the rim appears visible properly, then you did all right.
FAQ:
Q: What is game directory?
A: That's the folder where your NFSUC installed
Q: Addon rims when?
A: I don't know, since adding new rims to NFS Undercover is rather complicated as all cars have specific "car_parts" nodes where all parts are listed. And each part in VLT is coded in "car_part" class.
Uploaded on:
nfsaddons.com (this site)
nfscars.net
nfsmods.xyz
Please don't reupload to these sites.
Thanks to:
nfsu360 for his NFS-CarToolkit
Oleg M. for Zmodeler
Version 1.01

uploaded February 17, 2023

Eevee uploaded a new version. The new file is 664.52 KB.

Uploaded the correct archive since the one I uploaded is simply "drag-and-drop from archive" instead of actual endscript-based replace mod

Initial version

uploaded February 16, 2023

Eevee uploaded initial version. The original file is 663.11 KB.