Need for Speed Pro Street Downloads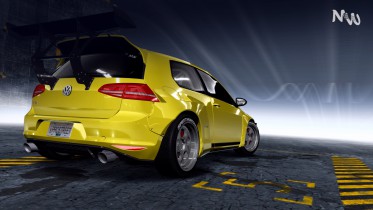 Author:
Michael Werd
Added on: October 11, 2019
Viewed: 839 times
Downloaded: 118 times
Favorited: 0 times
Share this car:Click to copy URL
=====Volkswagen Golf Mk7 GTI for NFS ProStreet =====
Author: Michael Werd
Author's site:
Michael Werd:
https://vk.com/idmichael_werd
https://www.instagram.com/michael_werd
OnePointReviews:
https://www.youtube.com/user/OnePointReviews
Original model from NFS Heat.
Replacing for: Volkswagen Golf R32 (R32)
Tuning:
Hoods Stock+4.
Body kits stock+5.
Specific spoilers stock+2.
In-game spoilers Include
Exhaust Stock + Aftermarket exhausts
Roofscoops Aftermarket roofscoops
Roll cages stock + 2
Racing seats stock + In game Seats
Rims Stock (Full autosculpt tuning) + Aftermarket Rims
Window tint Include
Vinyl's Include
Installation :
1.Folder "R32"
Install (copy from archive and paste) into (example like me) "E:\Games\Need for Speed - ProStreet\CARS"
2.Open NFS Vlt-Ed v4.5,select the folder of your game "File=>Open=>folder of your game"
After then program load game data
2.1 Next "File=>Import=>ModScript", select "VW_MK7.nfsms" in the folder of the mod.
2.2 After then script is imported, click on file => save.
3. For activation offsets for other body kits , copy folder "scripts" and file "dintput8.dll" from "!!!ENABLE OFFSETS!!!"
Install/paste into (example like me) "E:\Games\Need for Speed - Pro Street"
Enjoy it!)
Terms of distribution:
Do not modify any part of the Installer and/or modification without permission of the author!
When you post on other sites, specify the author and a home page link to author site!!!
Damage
Convertible
Dashboard
Class
Vidwall
Serial #
Windows
Licence Plate
Top Speed
0 mph
0 kmh
Polycount
0