Need for Speed Most Wanted Downloads
Discord Rich Presence Support
Views 1,397
Downloads 116
File updated on: June 2, 2023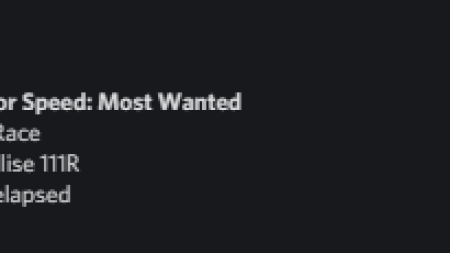 Putting it simply, nfsmw-rpc is a fork of wictornogueira, and, I have permission from them to upload my fork of his mod with updates, such as pursuit and heat level in Campaign. More updates are coming soon!
The short and sweet installation guide:
1. Install ASI loader
2. Get the latest version
3. Extract all files into your game directory (nfsmw-rpc.zip -extract=> Need For Speed Most Wanted)
Other than that, nfsmw-rpc will take care of the rest, so that your friends know what you're up to in Need For Speed: Most Wanted (2005)!
Version sc-v2023.6.2.1

uploaded June 2, 2023

Slugcat uploaded a new version. The new file is 318.02 KB.

+ added in race, in safe house, and free roaming text when in campaign
+ added support for the challenge series
= todo: add challenge series number

Initial version

uploaded June 2, 2023

Slugcat uploaded initial version. The original file is 608.61 KB.