Need for Speed Most Wanted Downloads
Playable and Upgradeable Mazdaspeed RX-8 Mod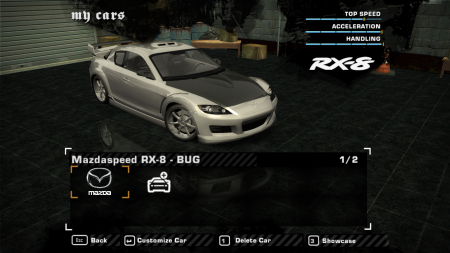 Added On January 27, 2022
Views 2,529
Downloads 193
File updated on: January 28, 2022
Need For Speed Most Wanted - Playable and Upgradeable Mazdaspeed RX-8 Mod
This mod is made to make the unused "RX8SPEEDT" to be playable & upgradeable as well (gave it unique performance so it doesn't felt like a copy pasted RX-8)
Features :
Cost 64000 on Dealership
Unlocked after snatching Kaze's Mercedes
optional feature to make it appear as one of the random opponents
Bugs :
Nadah (let me know if you found one)
Minor issue :
no Ferrari V8 swap soz
Things you need for installation :
- NFS-VltEd v4.6
- a brain
Installation steps :
1. Extract all of the mod content somewhere safe
2. Open VltEd as administrator
3. Find where do you install your Most Wanted copy by clicking File --> Open, like for example
C:\Program Files (x86)\Electronic Arts\Need for Speed Most Wanted
4. Install the modscript by clicking File --> Import --> Modscript & select the PlayableAndTuneableRX8SpeedT.nfsms that you already extracted before
5. Save it by going to File --> Save (or just use Ctrl + S)
6. Make a new save file afterwards & enjoy the new Doritos boi added to your collections
A reminder :
- this mod is incompatible with older save files due to modified pvehicle & frontend, so make a new save file after you're installing this script
- if you want to play online with this mod, the other players must have this mod installed too. Otherwise they'll kicked out from the game, so don't use RX8SpeedT's new parts all time
- Always make a backup just in case you're screwed up
- You can use this playable + tuneable rx8speedt scripts with frannco1099's Restored MazdaSpeed RX-8. All you need to do is just install rx8speedt.nfsms, then install this script afterwards.
Thanks to :
- DarkRaven - Upgradeable Porsche 911 GT2(996) for inspiration & mod script format
- Rsracerp60 - inspiration for adding performance upgrades to bonus cars + making them playable
- frannco1099 - for giving the Mazdaspeed RX-8 a proper body kits + hoods
Version 1.1

uploaded January 28, 2022

KenjaMago uploaded a new version. The new file is 1.45 MB.

- Minor readme & descriptions correction

Initial version

uploaded January 27, 2022

KenjaMago uploaded initial version. The original file is 1.45 MB.