Need for Speed Most Wanted Downloads
Upgradeable Mercedes-Benz SL 65 AMG (R230) Mod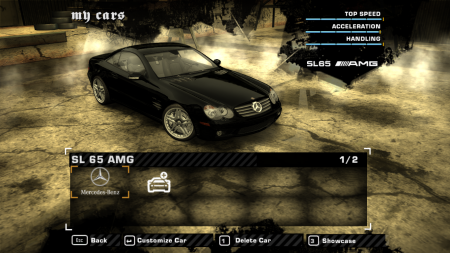 Views 2,147
Downloads 218
File updated on: January 16, 2022
Need For Speed Most Wanted - Upgradeable Mercedes-Benz SL 65 AMG (R230)
so the basic premise of this mod is giving sl65 a proper upgradeable parts "sl65_top"
as well as making it properly playable on career mode + unlockable on later stages
Features :
Cost 100000 on Dealership
Unlocked upon proving Kaze that her CLK is shit
optional performance upgrades for SL 65's bonus cars (BONUS_SL65 & CE_SL65)*
Bugs :
None atm (if you find any of those, lemme know)
Minor bugs :
Handling may be too brick 4 you to handle
Things you need for installation :
- NFS-VltEd v4.6
- a brain
Installation steps :
1. Extract all of the mod content somewhere safe
2. Open VltEd as administrator
3. Find where do you install your Most Wanted copy by clicking File --> Open, like for example
C:\Program Files (x86)\Electronic Arts\Need for Speed Most Wanted
4. Install the modscript by clicking File --> Import --> Modscript & select the UpgradedSL65.nfsms that you already extracted
5. Save it by going to File --> Save (or just use Ctrl + S)
6. Don't forget to make a new save file first
A reminder :
- this mod is incompatible with older save files due to modified pvehicle & frontend, so make a new save file after you're installing this script
- if you want to play online with this mod, the other players must have this mod installed too. Otherwise they'll kicked out from the game, so don't use SL 65's new parts all time
- Always make a backup just in case you're screwed up
- You can use this tuneable sl65 script with Zvott96's SL65. All you need to do is just install sl65_stock_playable.nfsms, then install this script afterwards. You'll notice that there'll be some errors, but you can safely ignore it

- *only available if you make a save file after installing it. Otherwise the performance upgrades won't be applied
Thanks to :
- DarkRaven - Upgradeable Porsche 911 GT2(996) for inspiration & mod script format
- Rsracerp60 - inspiration for adding performance upgrades to bonus cars + making them playable
Version 2.0

uploaded January 16, 2022

KenjaMago uploaded a new version. The new file is 1.48 MB.

- Complete rework of the script

Version 1.1

uploaded July 20, 2021

KenjaMago uploaded a new version. The new file is 1.48 MB.

- Readjust the Chassis node (sl65_top) so it doesn't felt like a dragster anymore

Initial version

uploaded June 11, 2021

KenjaMago uploaded initial version. The original file is 1.48 MB.