Need for Speed Most Wanted Downloads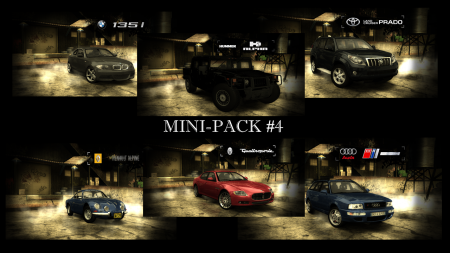 Added On November 2, 2020
Views 1,930
Downloads 336
This is my next addon, and the third mini pack, this time with 6 new vehicles (coming soon: the BONUS CAR of this mini-pack #4). These are the following cars:
Maserati Quattroporte
Renault Alpine
HUMMER H1 Alpha
Toyota Land Cruiser Prado
Audi RS2 Avant
BMW 135i
There you go!!! (This car is part of the ADDON CAR PACK #1, such as the Honda Civic CX, the Sedan 1200 , The Chevy Corvette Stingray, the ML63 AMG, the BMW M5 and the mini packs #1, #2 and #3, the pack will be available in DECEMBER!!). So far we have 29 cars expect more in the future or more mini-packs!!!

Next week: The mini pack HB edition and the SUPERCAR edition. (NOTE: I made a mistake with the RUF it is the CTR3).
NOTICE: Will be a mini-pack #6. more details in the Mini Pack #4 BONUS CAR.
What's next:
BMW M6 (F13)
Shelby GT500 (2010)
Ford F100
Audi A1 quattro
Porsche 911 GT3RS (2010)
Alfa Romeo 159 Ti (part of the mini-pack #6).
DeLorean DMC - 12 (requested by @Sgt. Drifter). (part of the mini-pack #6)