Need for Speed Most Wanted Downloads
LEGO Racers Raceway Rider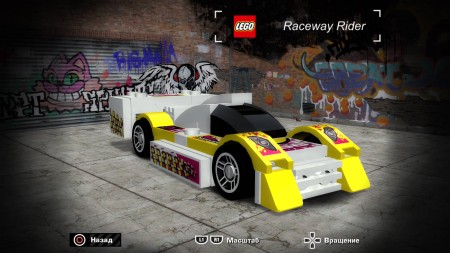 Added On January 24, 2023
Views 3,323
Downloads 270
This car replaces None (Addon car)
This car was converted from Bricklink Studio 2.0 by YochiThMaster333 aka Eevee (me). It's actually an experimental conversion, to be honest.
Tuning:
Features:
Working brakelights
Available at game start
Costs 32000 in career mode
Known bugs:
Wheels clip over axle part
How to install:
Download and install NFSMW Unlimiter
Run Binary v2.8.3 as an administrator, click on red (User Mode) icon, then pick LEGOYELLOW.end and look for NFSMW game directory (ignore the errors if there are any)
Run NFS-VltEd, click File - Open and choose NFSMW game directory, then click File - Import - ModScript and pick LEGOYELLOW.nfsms. Save.
Run the game and create a new save game. If the car appears visible properly, then you did all right.
FAQ:
Q: What is game directory?
A: That's the folder where your NFSMW installed
Q: ModLoader version when?
A: Never.
Uploaded on:
nfsaddons.com (this site)
nfscars.net
Please don't reupload to these sites.
Thanks to:
nfsu360 for his NFS-CarToolkit
Oleg M. for Zmodeler
BrickLink for Studio 2.0