Need for Speed Most Wanted Downloads
1997 Volkswagen Golf Cabriolet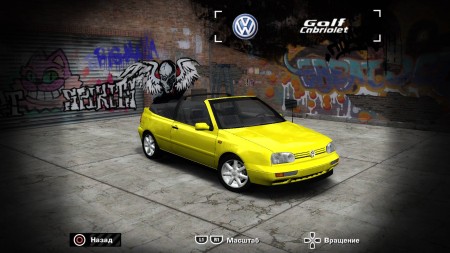 Views 1,407
Downloads 163
File updated on: March 25, 2023
This car replaces None (Addon car)
This car was converted from GTI Racing by YochiThMaster333 aka Eevee (me).
Tuning:
Bodykits
Spoilers
Rims
Hoods
Brakes
Headlights
Taillights
Side Mirrors
Attachments (in order: Seats, Steering Wheel, Front Grille, Fender Side Vents, Rear Trunk, Muffler Tip)
Performance
Paint
Vinyls
Rim Paint
Window Tint
Decals
Licenseplates
Features:
Working brakelights
Available at game start
Costs 22000 in career mode
Adapted for YTM's Rim Pack
Known bugs:
How to install:
Download and install NFSMW Unlimiter
Run Binary v2.8.3 as an administrator, click on red (User Mode) icon, then pick GOLFC97.end and look for NFSMW game directory (ignore the errors if there are any)
Run NFS-VltEd, click File - Open and choose NFSMW game directory, then click File - Import - ModScript and pick GOLFC97.nfsms. Save.
Run the game and create a new save game. If the car appears visible properly, then you did all right.
FAQ:
Q: What is game directory?
A: That's the folder where your NFSMW installed
Q: ModLoader version when?
A: Never.
Q: My game crashes when I try to put the vinyl!
A: The car has 512x vinyls by default, and you installed the car in a game build with 1024x vinyls, hence the crash in vinyls. Two possible solutions include either removing the car's VINYLS.BIN file or installing 1024x vinyls file I linked in readme files.
Uploaded on:
nfsaddons.com (this site)
nfscars.net
nfsmods.xyz
Please don't reupload to these sites.
Thanks to:
nfsu360 for his NFS-CarToolkit
Oleg M. for Zmodeler
Version 1.0b

uploaded March 25, 2023

Eevee uploaded a new version. The new file is 6 MB.

Fixed an issue where wheels go offset if the game copy where the mod installed to had a Golf GTI mod where it had non-zero values for stock KitWheelOffsets.

Initial version

uploaded March 25, 2023

Eevee uploaded initial version. The original file is 6 MB.