Need for Speed Most Wanted Downloads
Impreza WRX STI 2015 (ADDON)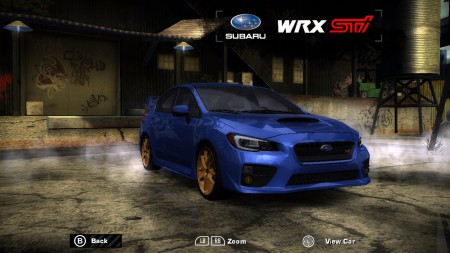 Added On December 18, 2020
Views 4,088
Downloads 1,097
File updated on: October 12, 2021
This car replaces None (Addon car)
This mod replace nothing, Xname of the Addon car is WRXSTI15
Get the Subaru Impreza WRX STI from ModLoader if you want to replace the Old Impreza WRX with it
2015 Subaru Impreza WRX STI converted from Forza Horizon 3 & some parts from Fast & Furious: Legacy
Features:
- LOD Parts
- Working brakelights
- New Performance Data
- HD Secondary Logo
- Damage & Scratches
- High-luster finish BBS aluminum alloy wheels, located in CARS/WRXSTI15/Limited Folder
- NFSUC Driver
- 5 Special Colors in Contest Winners
Others:
- Added an uninstallation folder that has an nfsms file included for people to uninstall & install any addon cars they have while the endscript file was in the setup (this will also remove the files for endscript. Extract the files again manually in CARS Folder)
- Added an ini file in Mod/scripts/UnlimiterData Folder to have customization visibility whatever the mods have or don't have parts & visuals, only in Unlimiter v3
- Blue was set as Stock color in Binary Version.
- You can remove the spoiler using Edge Spoiler in Spoilers section (or use with EllisRacing's Spoiler Pack instead to remove it)
- Decals from rear quarter was moved to front and rear windows (low position)
It can be customized with:
- Bodykits (4)
- Spoilers
- Hoods (Headlights enabled & a rally light)
- Rims
- All Performance Upgrades
- Visuals (paint, vinyls, decals, numbers, etc.)
Installation:
It's in the Installation txt for Binary from Archive
Known bugs/issues: Some vinyls such as Unique, Stripes, Flames, Body, etc. will not fit properly or cropped on its debug while the rest can fit into it well. Tell me if there's other issues aside from this issue on Vinyls.
Credits:
- Converted by Eclipse72rus. Also granted me to add & release his car mods in MW BUT to credit him & provide the link for the ModLoader car
- Performance by Eclipse72rus himself, a little rework on acceleration made by me
- MW Recompiler by MWInside
- NFS-VltEd & NFS-TexEd (v1.7) by nfsu360
- NFS MW Unlimiter by nlgzrgn
- Ant Renamer by antp.be
- Binary v2.8.3 by MaxHwoy
Version 1.1a

uploaded October 12, 2021

Raverz12345 uploaded a new version. The new file is 5.73 MB.

The Addon car no longer support ED as I don't work with it anymore. So, I changed the description of my Addon

Version 1.1

uploaded December 18, 2020

Raverz12345 uploaded a new version. The new file is 5.75 MB.

Fixed Config File in ED Version. I forgot to change it before releasing

Initial version

uploaded December 18, 2020

Raverz12345, Eclipse 72rus uploaded initial version. The original file is 5.75 MB.