Need for Speed Most Wanted Downloads
2009 Pagani Zonda R (w/ Extra Customization)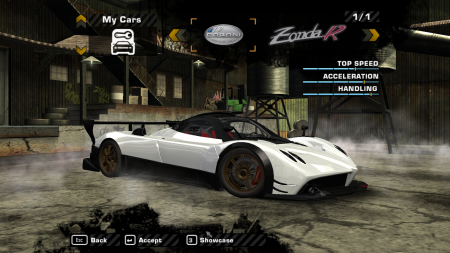 Added On November 18, 2021
Views 10,289
Downloads 1,531
This car replaces None (Addon car)
An addon version for McLaren_3Dcm's other Zonda R, with Extra Customization-ish.
Replaces: NONE
Here's link to the modloader and original version by McLaren_3Dcm (original author, i forgor to tag him as author too):
https://www.nfsaddons.com/downloads/nfsmw/cars/pagani/1764/pagani-pagani-zonda-r.html
Customization and Tuning:
- Rims
- Performance
- Visuals

+ Drivers
+ License Plates
Features:
- Realistic performance
- Debug texture (in Vinyls.bin)

- Working brakelight textures
- Headlight dummies added (since you can turn your headlights off by pressing H, when you have ExOpts)
- 512x or 1024x vinyls options
- HD-ish Logos
- NFSMW '12 driver model
- A girl with zero gravity, vomits in rainbow.
- A black swordsman who's a trap in a full-dive VR.
- First Child.
- A guy who saves Spirits.
- "Hashire sori yo, kaze no you ni, tsukimihara wo, PADORU PADORU!"
Read the readme.txt file, it's probably important, if you dunno what to do.
Credits:
- antrenamer for renaming multiple vinyls.
- Adobe Photoshop CS6 for arranging the driver textures, and customizing custom license plates.
- nfsu360 for NFS VltEd 4.6 and NFS TexEd 1.7.
- Blender for remapping UV maps, and parts and materials renaming.
- McLaren_3Dcm for converting this mod for Most Wanted, and granted my permission.
- nlgzrgn for NFSMW Unlimiter with Extra Customization.
- nfsu360 for NFS Vlt-Ed 4.7, NFS Tex-Ed 1.7, NFS CarToolKit 3.1.
- MaxHwoy for Binary 2.8.
- PonySparkle69 for converting this mod into an addon.
- P3DM Admin for the MW '12 Driver model.
- grazekai, AzureBeryBlue, and asideofchidori for the ripped models.