Need for Speed Most Wanted Downloads
Mitsubishi Lancer Evolution V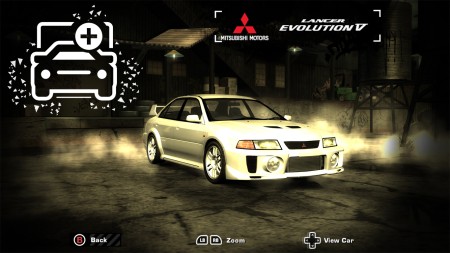 Added On February 13, 2023
Views 2,757
Downloads 387
File updated on: March 7, 2023
This car replaces None (Addon car)
"Mitsubishi believes in rallying with a car you can buy in the showroom. So it has resisted pressure to join the World Rally Car bandwagon and built a sensational Lancer Evo V road car instead."
Converted from: Initial D Arcade Stage (I don't know which one to be exact)
Tuning:
- Body kits: 12 of them, some are slightly different variations tho, but should be good with everyone's tastes
- Spoilers: Vanilla + includes 7 extras, exclusive of this car
- Rims: ofc
- Hoods: Five including stock, every one can be converted to carbon
- Roof Scoops: Doesn't really matter, but just wanted to have this for the car to be 100% customizable
- Side Mirrors: Stock + 3 extras
- Attachments:
-- Slot 1: Roll cage
-- Slot 2: Mudflaps
-- Slot 3: Works-R decal to recreate Eiji's Evo V from Wangan Midnight
-- Slot 4: Exhaust Tips
-- Slot 5: Rally lights
-- Slot 6: Some hood things that I don't what they are
- Vinyls: Everything plus 5 extras:
-- Mine's: A vinyl to resemble the Mine's Lancer Evolution V
-- WRC #1: Tommi Makinen's livery for the 1998 WRC
-- WRC #2: Richard Burns' livery for the 1998 WRC
-- Winfield: The legendary Winfield livery in all its uncensored glory (No GT2 stuff)
-- Awesome Osaka: The livery of one of the opponents of Street Supremacy
(All of these can be found in the Unique section of vinyls)
- The rest (Except body decals, you can still apply decals to the windshield and rear window)
Features:
- Unlocked after proving Izzy that the RX-8 kinda sucks (In other words, unlocked after defeating Izzy)
- Vanilla driver from Need for Speed Most Wanted
- Working taillights on/off textures
- Brakes and License Plates sections active if you have mods for those
- Custom performance, based from the Lancer Evolution VIII
Known issues:
- Vinyls UV Mapping is kinda bruh since I don't know how to do that stuff correctly. However, it's not really noticeable with the exception of some body vinyls.
- No body decals cause it consumes time and the car model is different than that of Black Box's. Might be fixed in a future update though.
- Please report if any other issues are seen.
Installation:
Can be found at ReadMe.
Special thanks to:
- SEGA: For creating the model.
- nfsu360: For NFS CarToolKit 3.1 and VltEd 4.6
- Oleg Melashenko: For ZModeler 2.2.6
- MaxHwoy: For Binary 2.8.3
- EMOSEN: For making the rally extra liveries and the Awesome Osaka livery.
- KenjaMago: For improving the performance for the car.
- SenpaiKillerFire: For making the Mine's livery.
- Valen2006 (me): For making the mod.
- You: For downloading the mod.
Version 1.1

uploaded March 7, 2023

Valen2006 uploaded a new version. The new file is 27.45 MB.

Did some stuff. Here's a list:
- The order of the body kits has been altered. It's more sensical now.
- Exhaust Tips are no longer dependant of body kits and have been moved to a separate attachment slot so you can choose which one you want to use.
- The hood with the rally lights has been removed.
- Because they are now available as a separate attachment slot! You can now have them with any hood you desire and also convert it to carbon fiber if you want!
- Two hoods had some things that were dependant on the hoods, so I removed them from the hoods and moved them to a separate attachment slot if you want them.
(Still no body decals sadly)

Initial version

uploaded February 13, 2023

Valen2006 uploaded initial version. The original file is 27.51 MB.