Need for Speed Most Wanted Downloads
Mitsubishi SST Concept '00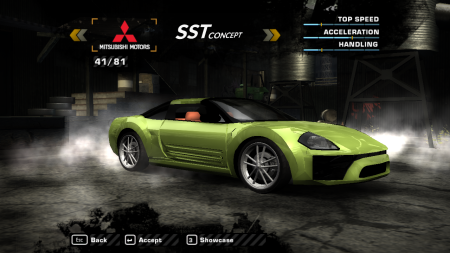 Added On January 13, 2023
Views 3,073
Downloads 332
File updated on: January 14, 2023
Version 2

uploaded January 14, 2023

PedroBLR uploaded a new version. The new file is 6.67 MB.

- shortened the stock gear ratios, now the car doesnt accelerate to 100KMH at first gear and loses less power at the 3rd and 4th gears.
- added more tire grip.
- shifted a little bit of the weight of the car towards the rear,this thing uses a smaller engine compared to the Eclipse GTS i posted before.
- leveled up the power stats of the stock engine, and shifted the turbo boost towards more high end rpm, because of this (and the gear ratios ofc) , the SST is now considerably faster than the GTS Spyder.

Initial version

uploaded January 13, 2023

PedroBLR uploaded initial version. The original file is 6.67 MB.