Need for Speed Most Wanted Downloads
1999 Mitsubishi Lancer Evolution VI (CP9A)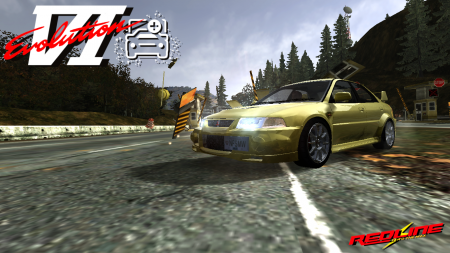 Views 6,416
Downloads 940
File updated on: May 24, 2022
This car replaces None (Addon car)
[Introduction] -
This mod aims to add a car named "Mitsubishi Lancer Evo VI '99 (CP9A) inside the game.And Memes It a bit
[Tool Requirements] -
nfsu360's NFS VltEd V4.6 - https://nfs-tools.blogspot.com/2019/02/nfs-vlted-v46-released.html
MaxHwoy's Binary V2.8.3 - https://nfsmods.xyz/mod/1638
[Mods Required]
nlgzrgn's Unlimiter With Extra Customisation V3 - https://nfsmods.xyz/mod/688
nlgzrgn's NFSMW Extra Options V9.1 - https://nfsmods.xyz/mod/43
[Installation] -
Binary:
1. Run Binary as an Administrator and Click User Mode (Left Icon).
2. Locate the Endscript file and install it.
3. Locate your game folder where you wish the mod will be installed.
4. Let Binary do it's thing, Save Changes. (If it says "Would you like to run the game?", Press no.)
VLTEd:
5. Run VLTEd as an Administrator and locate your NFSMW Installation folder (Use CTRL+O).
6. Import the VLTED Script located inside the mod's folder.
7. Let VLTEd do it's thing, save changes.
8. Start the game, create a new savegame, and enjoy your Evo!
Manually Installing The Vinyls:
1. Select your vinyls from the _Carfile folder (inside Data folder) either x512 or x1024
2. Place it in the EVOLUTION6 folder in the cars folder in your Need For Speed Most Wanted Directory
If the EVOLUTION6.ini doesnot go to the Unlimiter data folder then manually do it:
1. Open _Unlimitier (inside Data Folder) Copy EVOLUTION6.ini
2. Go to scripts in your nfsmw directory
3. Click on Unlimiter Data and paste the .ini file there
[for people updating the mod only]
1. Copy GEOMETRY.BIN from _Carfile to EVOLUTION6 Of CARS Folder Of Your Most Wanted Copy
[Issues]:
When Installing this mod, it may break the cars in your last savegame, so create a new one instead.
No Issues that I've encountered, If there are, Contact me on Discord (REDLINE™#8173)
[Changelog]:
31/03/2022 - Release
24/05/2022 - Hotfix
Fixed Logo Appearing On Spoiler
[Credits:]
REDLINE - Convertion + Whole Car Mod (initial d and fh4 models dont really go together well ;-;)
SaberHS - Scripts and stuff (Thanks friend!)
MasterLife - Vinyls (Thanks a lot Master homie B)!)
KenjaMago - NFSMS Scripts (Thank you Bruh!)
AndreiK - Raylle Vinyl (Thank you Epik vinyl creator!)
Aristotel2003/Ariso - Secondary Logo (Thank you Texture God!)
Glitchy Team - Huge support B) (Thanks you guys!)
NFSAddons Community - Helping me with modding (Thanks Men and Women of Culture!)
GameModels.Ru - Car Model
Emosen - does nothing helping wise (Veri Op man made his way in the credits doin nothing B) )
[Warning]
The last bodykit of this mod is dangerous
open at your own risk B)
Version 1.1

uploaded May 24, 2022

REDLINE95 uploaded a new version. The new file is 25.38 MB.

- Fixed Mitshubishi Logo Appearing On Spoilers

Initial version

uploaded March 30, 2022

REDLINE95, SaberHS, MasterLife, KenjaMago, AndreiK uploaded initial version. The original file is 25.46 MB.