Need for Speed Most Wanted Downloads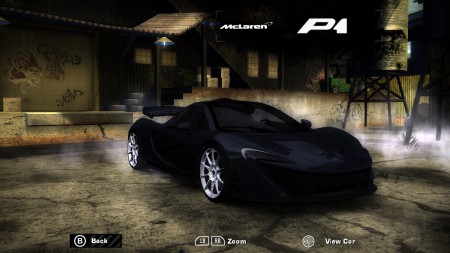 Views 16,709
Downloads 3,601
File updated on: December 13, 2020
This car replaces None (Addon car)
This is my 1st added car in MW released after I added 100 car mods & I'm still woking on new addon cars I need to compile, lowering their textures & make nfsms, configs & their logo with 2nd logo (dds) files. It replaces nothing. The folder name of the Addon car is P1
If you want the ModLoader version of the car, I'll put the link below:
https://www.facebook.com/leagueautocity/posts/591572571243328
If you want more mods, visit League Auto City for more car mods:
https://www.facebook.com/leagueautocity/?ref=page_internal
My Addon car gets featured & video provided by KryZeePlays on YouTube. Link here for his tuning & gameplay:
https://www.youtube.com/watch?v=A4Vnf3ErQWk

McLaren P1 2014 converted from NFS Rivals
Features:
- Stock paintable bodykit with new material (Kit1 lifts the spoiler up)
- License plate is accessible under Hood
- Working brakelights texture
- Realistic Performance data
- Special anti-theft measures: a special chrome 3D model in interior and a special dds in Textures.bin
- 5 Special Colors in Unique Vinyls Section (this was removed in latest version)
Others:
- Added an Uninstallation folder that has an nfsms file included for people to uninstall & install any addon cars they have
- Red was set as Stock color in ED Version while Yellow was set as Stock color in Binary Version
- A different color material used for the Addon car was accessible in Window Tints section
Installation:
It's in Readme txt for ED & Binary from Archive
Known bugs/issues (Known, fixed): An AI Racer uses the Addon car with kit 2 until 5 instead of stock or kit 1 (Spoiler up) will ended up a skinless body in the race (CarSkinFix setting in ExOpts CANNOT help either). So, I made it unused for random AIs, plus the Aftermarket rim issue as well. However, it's now possible for AI to use the Addon Car only in Binary Version
New Issue: Gauge needle problem that was the same as Huayra, Viper GTS & Aventador J (from Aventador Addon car pack). Thnx to Izuna for reporting the issue
Updates are now written in the Changelogs below
Credits:
- Converted & retexture by AC Lambor. Also granted me to add his car mods in NFS MW BUT to credit him & provide the link for the ModLoader car.
- Screenshots provided by Black Era
- Performance by Typhoons, a little performance increased by me
- MW Recompiler by MWInside (current)
- NFS-VltEd, NFS-ModManager, NFS-CarToolkit & NFS-TexEd (v1.7) by nfsu360
- NFS MW Unlimiter & Ed - The Car Dealer! by nlgzrgn
- Ant Renamer by antp.be
- Binary v2.4.0 by MaxHwoy
- NFSNL Blackridge Police Department Livery made by desanosan24
- Silver rim texture made by Emosen
Version 1.4

uploaded December 13, 2020

Raverz12345 uploaded a new version. The new file is 3.91 MB.

- Added Silver rims version on P1 (thanks to Emosen for editing its dds file <3)
- Lowered Geometry size using CarToolkit.

Version 1.3

uploaded December 5, 2020

Raverz12345 uploaded a new version. The new file is 2.54 MB.

There are few things listed in Changelogs:

- Added a 512p & 1024p Vinyl for the Addon car with a right debug. It's the NFSNL Blackridge Police Department Unit to hunt down the Acura NSX! Made by desanosan24 (replace Unique 01). You can also paint the car as well
- Added an ini file in Mod/scripts/UnlimiterData Folder to have customization visibility whatever the mods have or don't have parts & visuals, only in Unlimiter v3

Version 1.2

uploaded November 2, 2020

Raverz12345 uploaded a new version. The new file is 2 MB.

The Addon car now supports Binary Compatibility & separated inside the folder of the file (ED & Binary Files). The CARS Folder was now located in Mod Folder & the Stock Color is Yellow in Binary Version. Imma give other changelogs below:

- The Special Colors in Unique Section has been REMOVED
- AI Racers are now possible to use the Addon car in Events (Binary Version, use with nfsms file inside the Binary Files)
- The 7th Gear Transmission was fixed & the Top Speed was decreased to 389 km/h
- Added few Screenshots for this Mod

Version 1.1

uploaded August 24, 2020

Raverz12345 uploaded a new version. The new file is 2 MB.

Fixed its Reflection Offset field in P1's ecar node (Thanks to the YouTuber, KryZeePlays for reporting the issue)

Initial version

uploaded August 17, 2020

Raverz12345, ACLambor uploaded initial version. The original file is 2 MB.