Need for Speed Most Wanted Downloads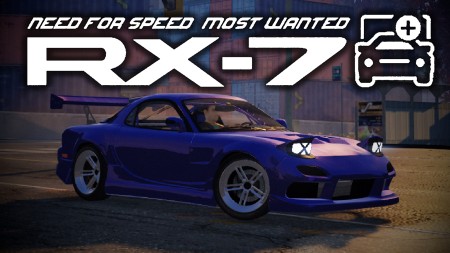 Added On October 26, 2023
Views 3,527
Downloads 511
This car replaces Mazda RX-7 (RX7)
3.0 CHANGELOG:
[NEW]
Unlimiter V4 support.
512x vinyls.
IPS Time Attack, Panspeed, Pandem Boss Aero bodykits.
3 new spoilers.
Stock customizable rims + 4 new custom rims.
3 new hoods.
3 levels of customizable rollcages, now separated from the interior. Paint, Chrome, CF and Tint variants.
10 new headlights.
6 new taillights.
1 new variant of side mirrors.
1 trunk decoration.
Driver and passenger seat customization. 4 new seats + seat removal, nitrous tanks, body pillows and plushies.
5 roof decorations.
11 custom vinyls.
Underground 2 vinyls in most of the categories. (512x is not supported.)
7 driver models.
Tinted variants for hoods, roofs, trunks, headlights and taillights.
Custom icons for the UI.
Custom camera angles for customization options.
[CHANGED]
Car now uses vanilla Paul model as a stock one instead of Ryan Cooper.
Disabled roof scoops.
Moved hood and trunk decals into Visual > Decals section. Now it is fully customizable with the ingame decals instead of the car ones.
Changed wheel spacing, radius and ride height for all the bodykits.
(Experimental) Replaced language strings usage with Debug Names.
Improved carbonfiber parts UV mapping (excluding hoods)
Car name in English.bin now changed.
Changed tinted parts of Veilside Fortune (Tint) bodykit.
[FIXED]
Fixed decals on custom roofs.
Fixed headlight texture on Sleepy headlights.
Fixed headlight markers rendering backwards.
Painted spoilers now unaffected by liveries.
Fixed Veilside bodykit UV mapping.
------------------------------------
This mod replaces and overhauls the original RX7 with a considerable amount of customization options.
Before installing the mod, make sure you have:
NFSMW Unlimiter by nlgxzef (https://nfsmods.xyz/mod/688)
NFSMW Extra Options by nlgxzef (https://nfsmods.xyz/mod/43)
Global Textures Pack 1.5 by Viper4k (https://drive.google.com/file/d/1yNtVfq3jprS2CNka9w5aFpbErJUEuN7w/view)
VltEd v4.6 by nfsu360 (https://nfs-tools.blogspot.com/2019/02/nfs-vlted-v46-released.htm)
Binary by MaxHwoy (https://nfsmods.xyz/mod/1638)
The mod features:
25 bodykits (includes 2 variations of Veilside Fortune 4 - Tinted and Painted)
14 spoilers (+ CF)
12 hoods (+ CF and Tint-colored)
3 rollcages (+ CF, Chrome and Tint-colored)
5 roofs (+ CF and Tint-colored)
16 headlights (+ CF and Tint-colored)
10 brakelights (+ CF and Tint-colored)
5 side mirrors (+ CF)
4 trunks (+ CF, Tint-colored, removal option and more)
4 seats, body pillows and plushies for passenger seat.
3 roof decorations.
Vinyls (Custom + Underground 2)
Hood decals.
8 driver models.
Special Kudos:
Hopp - Customization assets (ESPECIALLY NEEKO MODEL! <3)
CiPHER - Customization assets and Unlimiter v4 help
Vasya - Body pillows and Unlimiter V4 usage tips
ARCHIE - CarShopGLOW taillights and Pandem Boss Aero assets
VeeTec, nlgzrgn, YochiThMaster333- Unlimiter v4 usage tips
FISCAL - Some of the custom UI icons
Airoz- Custom vinyls
P A I N - Screenshots
Tekizyte - For the car... Whereever you might be now, fella...
Testers:
THXAN_9
CiPHER
P A I N
RIMMEZ
Airoz
Vasya
N4SSakura
Note
You are allowed to use the mod in your modpacks, just put me down in credits.
You are NOT allowed to reupload the model without a permission.
Have fun!