Need for Speed Most Wanted Downloads
2010 Lexus LFA (Extended Customization)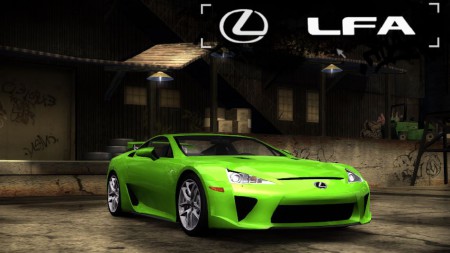 Added On December 28, 2021
Views 13,027
Downloads 2,155
File updated on: May 17, 2023
This car replaces None (Addon car)
2010 Lexus LFA by InfinityMain, with Fresh Green stock paint finish
Converted to: NFS Most Wanted 2005
Converted From: NFS World (Freeroam SparkServer)
Addon (no replace)
Xname: LEXUSLFA
Customization and tuning:
- 4 Bodykits (Nurburgring Package, Lowered front wide fenders from NFS World, default widebody from NFS World, custom-made SparkServer widebody)
- Spoilers (21 unique) (Works Conversion, Nurburgring Package, Stock Carbon, Deactivated Spoiler) (Also supports vanilla spoilers)
- 1 Hood (Carbon fiber variant of stock hood)
- Roof scoops
- Rims *(Now includes 5 custom paintables)
- Roof (3 roof spoilers)
- Interior (15 colors)
- Headlights (15 colors)
- Taillights (15 colors)
- Brakes (15 colors)
*Side Mirrors (Now Includes carbon variant and mirror remove option)
*Attachments (All attachments are a part of the update)
- Slot 1: Rear window
- Slot 2: Windshield Banner
- Slot 3: Headlight style
- Slot 4: License Plate Removal
- All performance
- Paint
- Vinyls
- Window tint
- Custom gauges
- License Plates
- Tires
Before reading any further, double check that you installed NFS Unlimter (3.0 or later, preferably the latest version)
The installation instructions are on the readMe file:
Bugs:
- No decals (I tried my best to implement them but they wouldn't show up)
- If there are any more bugs, let me know. I will try to fix them as soon as possible.
Permissions Granted:
- Usage of the mod in repacks such as Redux, Pepega Mod, and other remasters.
Credits:
EA and Black Box - Original mesh and textures
nfsu360 - NFS-VltEd and NFS Cartoolkit
nlgzrgn - NFSMW Unlimiter
MaxHwoy - Binary
KenjaMago - Performance Data (I tweaked the performance from that base vlt data, but used my own Binary endscripts instead of keeping the old one)
Desanosan24 and Aceofsquares3 - Helped me understand how to UV map
FreeRoam SparkServer - Additional body kit and spoiler customization not present in the base model.
Updates Log:
V 1.1:
- Added secondary logo (I didn't realize I forgot it)
- Made stock top speed more in line with its real world top speed.
Version 1.2

uploaded May 17, 2023

Aftrmrket Exotics uploaded a new version. The new file is 217 B.

Fixes/Improvements:
- Damage Scratches for kits stock, 1, and 3
- Reflection fixes on left front and right front windows
- Improved stability and cornering in performance
- Customizable tire compatibility for stock rims
- New debug map (nothing that was on the previous debug map was changed and the only changes involved were additions)

Additions:
- 5 custom paintable rims, all with customizable tire compatibility
- Side mirrors customizable
- 4 attachments in order: Rear window, windshield banner, headlight style, license plate removal

Version 1.1

uploaded May 29, 2022

Aftrmrket Exotics uploaded a new version. The new file is 217 B.

Removed unused kits to prevent ghosted AI cars

Initial version

uploaded December 28, 2021

Aftrmrket Exotics uploaded initial version. The original file is 254 B.