Need for Speed Most Wanted Downloads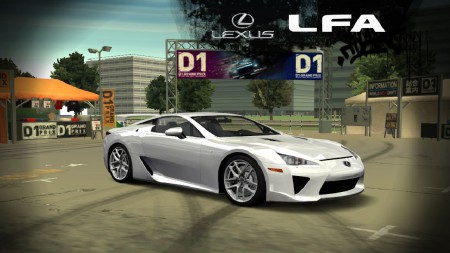 Added On September 26, 2021
Views 3,960
Downloads 706
This car replaces None (Addon car)
2010 Lexus LFA by InfinityMain
Converted to: NFS Most Wanted 2005
Converted From: NFS World
Addon (no replace)
Xname: LEXUSLFA
Customization and tuning:
- 1 Bodykit (the widebody from NFS World)
- Spoilers (Sport, Tuner, Sport Carbon, and Tuner Carbon)
- 1 Hood (Carbon fiber variant of stock hood)
- Roof scoops
- Rims
- All performance
- Paint
- Vinyls
- Window tint
- Custom gauges
Before reading any further, double check that you installed NFS Unlimter (preferably the latest version)
How to install:
1. Launch Binary as an administrator (preferably the latest version, v2.8.3)
2. Click "user mode" (red icon).
3. Select "Binary data install.end"
4. Then choose the game directory (the directory where your game is installed)
5. If successfully installed, save the files but DO NOT run the game yet!
6. Close Binary
7. If the geometry.bin, textures.bin, and vinyls.bin have not yet been moved to the CARS directory of the game, move them under the folder name LEXUSLFA
8. Run NFS-VltEd and open your game directory if not already done.
9. Go to file > import > modscript, and then select "lfa_vlt_data.nfsms"
10. Go to file > save, and save the changes.
11. Enjoy your LFA.
Bugs:
- No decals (I tried my best to implement them but they wouldn't show up)
- If there are any more bugs, let me know. I will try to fix them as soon as possible.
You may convert this mod and/or reupload it in other games under the following conditions:
- This is to be allowed to be featured in reduxes and/or remasters
- No customization is to be lost (unless due to game limitations).
- You don't have to credit me as an author, although it would be nice if you did.
Credits:
EA and Black Box - Original mesh and textures
nfsu360 - NFS-VltEd and NFS Cartoolkit
nlgzrgn - NFSMW Unlimiter
MaxHwoy - Binary
KenjaMago - Performance Data and Binary endscripts
Desanosan24 and Aceofsquares3 - Helped me understand how to UV map
December 28, 2021: A new version has been uploaded and is awaiting approval. Upon approval, this mod will be deleted in favor of the new version.