Need for Speed Most Wanted Downloads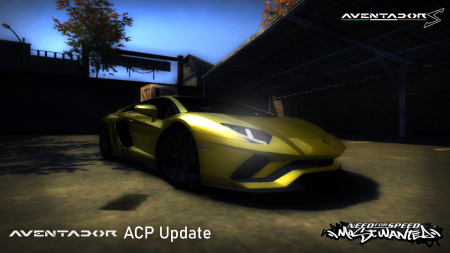 Views 4,355
Downloads 1,061
Version Most Wanted
Brand Lamborghini
This car replaces None (Addon car)
Currently my 1st Addon Car pack released with only Aventadors, They're great to have these added in your game! This pack contains one of the following as of now:
- Lamborghini Aventador LP700-4 2012 by ACLambor (Xname: AVENTADOR, requested by sriram2345)
- Lamborghini Aventador J 2012 by ACLambor (Xname: AVENTADORJ)
- Lamborghini Aventador LP750-4 SV 2016 by Eclipse72rus (Xname: SV2016, requested by sriram2345)
- Lamborghini Aventador S by LM1992 (Xname: AVENTADORS) NEW!
LP700-4 & Aventador J are converted from Forza Horizon while SV was converted from Assetto Corsa & Aventador S converted from NFS Heat Studio
You can download the ModLoader version if you want to replace original cars with these:
Lamborghini Aventador, Lamborghini Aventador J, Lamborghini Aventador SV, and Lamborghini Aventador S

My Addon car pack are separated with provided links. However, due to my laziness as of now has been removed. I'm very sorry about that...
My Avetador Addon car gets featured on YouTube!
Here is the Lamborghini Aventador LP700-4 Mod Gameplay by KryZeePlays.
Some features about the Aventadors:
- Stock paintable bodykit with new material (Aventador J only), and vanilla color material (LP700-4, S & SV only)
- 5 Liveries in Bodykits Section for SV while Aventador S has a full customization minus the hoods

- License plate is accessible under Hood (LP700-4 & Aventador J only but LP700-4 has 2 License Plates!)
- Rims are accessible in All Aventadors

- HD Secondary Logo (LP700-4, S & SV only)
- New Performance Data (For all Aventadors)
- Special anti-theft measures: a special chrome 3D model in interior and a special dds in Textures.bin (LP700-4 & Aventador J only)
- Aventador S has a full vinyl support (plus 1024p vinyls included)
Others:
- Added an uninstallation all Aventador's that has an nfsms file included for people to uninstall & install any addon cars they have while their endscript file was in the setup (this will also remove the files for endscript. Extract their files again manually in CARS Folder)
- Every Aventador will have different (or same) color in their ED & Binary Version
- Their performance is very good but Aventador's handling is balanced, I increased Aventador J's stats to make it faster than before (Tested by myself). However, Aventador S does not perform well, it will drift in every location (even twisty corners too)
Known bugs/Issues: Currently, the brake caliper issue on Aventador's (except for SV), plus Vinyls for Aventador S might be not fitting properly (at least other vinyls do). I recommend you to install nlgzrgn's Leftover Brake Fix to solve the issue (came from Marussia B2's problem) & the Brakes customization are enabled as default in their ini file for 3 Aventador's. Pls report if the addon car like Aventador S has any issues regarding reflections affected by HD Reflections by Aero_

Credits:
- Converted by AC Lambor, LM1992 & Eclipse72rus. They granted me in pm (with an advantage to take report on my Addons) to add their mods in NFS MW BUT to credit them & provide the link for ModLoader cars.
- Screenshots provided by PompousMWQ & Eclipse72rus himself
- Performance by 3 authors, Typhoons, LM1992 & Eclipse72rus
- MW Recompiler by MWInside (Currently..)
- NFS-VltEd, NFS-CarToolkit, NFS-ModManager & NFS-TexEd (v1.7) by nfsu360
- NFS MW Unlimiter & Ed - The Car Dealer! by nlgzrgn
- Ant Renamer by antp.be
- Binary v2.4.0 by MaxHwoy
Version 1.1

uploaded December 23, 2020

Raverz12345 uploaded a new version. The new file is 35.93 MB.

The Aventador Addon cars will now support Binary Compatibility & separated inside the folder of each Aventador (ED & Binary Files). There are some things & changes listed in Changelogs:
- Finally added a Fully customizable Aventador S to the pack (with 512p & 1024p included)
- Added an ini file in Mod/scripts/UnlimiterData Folder for every Aventador to have customization visibility whatever the mods have or don't have parts & visuals, only in Unlimiter v3
- The Special colors for Aventador & Aventador J has been REMOVED
- Lowered their Geometry file size using CarToolkit
- Frontend node & secondary logo for SV 2016 has been changed
- Removed installation txt as you already know how to install them, as well as Aventador S' 1024p Vinyls using ModManager
- The CARS Folder are now moved to Mod Folder for existing Aventadors

Initial version

uploaded August 25, 2020

Raverz12345, ACLambor, Eclipse 72rus uploaded initial version. The original file is 5.29 MB.