Need for Speed Most Wanted Downloads
Lamborghini Gallardo Superleggera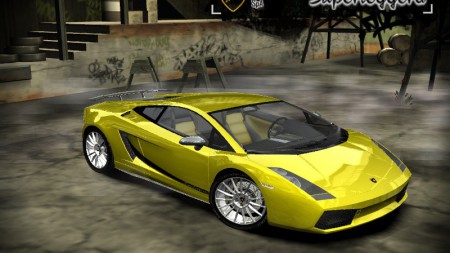 Views 59,307
Downloads 10,326
Version Most Wanted
Brand Lamborghini
This car replaces Lexus IS 300 (IS300)
Lamborghini Gallardo Superleggera
Base mesh by EA, moded by CTR.
Replaces Lexus IS300
Features:
6 body kits, all the same body, 4 different interior colors
window tints
aftermarket rims
"rice-proof" - no vinyls, scoops, spoilers and hoods :P
Bugs:
stock transmission has 5 gears only because of IS300's defaults, but gear ratios are tweaked to compensate for it. Top speed is 316km/h
front wheel drive - I can't seem to find out how to change wheel drive :(
Credits go to:
-Aboodilatif for the tire tread and sidewall textures...
-EA for mesh and game...
-Arushan for his tools...
Enjoy.
Installation:
Download the Ferrari 360 Mod Loader from here (if you haven't done already): http://nfscars.net/file/view/mostwanted/6464.aspx and install it.
Extract the zip, then the 7z and place the CARS_REPLACE and FRONTEND folders in your ADDONS folder. Overwrite files when prompted. Make sure you have only one 51-xxxxx.BIN file in Manufacturers folder.
CTRdesiGn'08