Need for Speed Most Wanted Downloads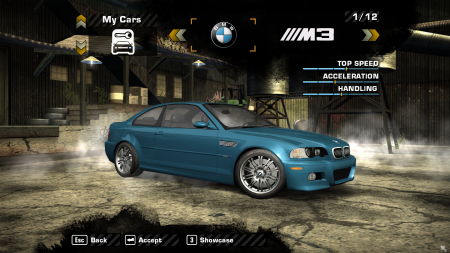 Added On January 19, 2021
Views 2,613
Downloads 392
File updated on: May 25, 2021
This car replaces BMW M3 (Unused) (BMWM3)
BMW M3 E46
Addon car mod by EllisRacing for NFS Most Wanted
Part of the BMW E46 Overhaul Mod Project for NFSMW
Current Version: 2.1
https://ellisworkshop.com/bmw-e46-mod-project-need-for-speed-most-wanted/
https://youtu.be/sjLBZs8CgYA
https://discord.gg/EWNJKAB
---------------------
CHANGELOG
---------------------
v2.1 (5/25/21) - the "sorry it took so long for me to release this update" edition
- Added Extended Customization!
v2.0 (1/19/21)
- Switched from Ed to Binary
- Switched to MW-quality base model with some LOD parts
- Revamped everything from scratch, improved body kit models for MW by lowering detail
- Removed 2 kits (Moved to M3 GTR)
- Added 1 new kit
- New performance
v1.0 (5/17/19) - Initial release
---------------------
DESCRIPTION
---------------------
This mod adds back the BMW M3 E46 (which was planned for NFSMW but cut during development) as an addon car.
Notable features:
- Full customization options
- New kits
- New hoods (including missing hood style 31 & 32, with LODs)
- Spoilers, Roof scoops, decals, vinyls, etc customization fully functional
- Performance upgrades
- Improved performance/physics configuration
- Vanilla MW-level quality
- LOD models
- damage textures
-------------------
INSTALLATION
-------------------
Tools Required:
1) Binary v2.4 (as of this mod release, the latest version of Binary is required)
https://nfsmods.xyz/mod/1638
2) VLTed
https://nfs-tools.blogspot.com/p/downloads.html
How to install:
1) Run Binary
a) Click the icon on the left to launch Binary for users
b) Select "Setup_BMWM3_Binary.end" from this directory
c) Select your NFSMW installation directory
d) Save.
2) Run VltEd
a) File -> Open -> select your NFSMW installation directory
b) File -> Import -> ModScript -> select "Setup_BMWM3_VltEd.nfsms" from this directory
c) Select "Install" option
d) Save.
4) Run the game and create a new save file OR patch your existing save file using the save patcher, included with this mod.
a) The save patcher is only useful if you haven't installed any previous versions of this mod before.
i) Run the "SavePatcher" exe and select your save game to patch.
ii) Then, use the "SaveEditor" exe, and simply open your save file and save it again. This is to prevent a bug that prevents the game from loading the patched file.
-------------------
CREDITS
-------------------
Seriously, thank you all so much!
General:
Felixeur - Performance, help with VLT issues
LUNA, heyitsleo: GTR Kit 3 (Shift2 Works kit) & M3/M3CSL Widebody Kit 3
Valen2006 - tinted headlights
Trackmaniamatt - painted spoiler
Vicious - custom headlights (halo)
Crazy_Max - race mirrors taken from M3 DTM mod
M3 E46:
GXP-10: M3 Base Mod
M3 CSL:
FLP, Valen1991 - BMW M3 CSL Base mod
Vee - M3 CSL HD Secondary Logo
M3 GTR Strassenversion:
Rsracerp60 - original "Addon performance" mod which influenced this one
M3 GTR Race version:
GXP-10: ALMS body kit (Kit 2)
379Felipe - original M3 GTR E46 upgradeable performance mod which influenced this one
Version 1.1

uploaded May 25, 2021

EllisRacing uploaded a new version. The new file is 6.97 MB.

Added Extended Customization!

Initial version

uploaded January 19, 2021

EllisRacing uploaded initial version. The original file is 6.97 MB.