Need for Speed Carbon Downloads
1971 Lamborghini Miura P400 SV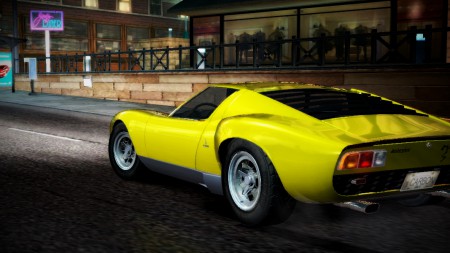 Views 4,128
Downloads 622
This car replaces None (Addon car)
1971 Lamborghini Miura P400 SV [XNAME: MIURASV]

***DON'T UPLOAD THIS MOD IN ANOTHER SITE WITHOUT MY PERMISSION***
***BEFORE YOU DOWNLOAD: I'm not sure if this mod is Compatible with Improvement Mod or Endgame Mod, since it was tested on base game. Downloading and installing this mod means that you take the risk***
***MOD NOT COMPATIBLE WITH THE LATEST VERSION OF CARBON BATTLE ROYALE. DON'T ASK FOR SUPPORT FOR THAT MOD***
Conversion from Real Racing 3, with parts and textures from Need For Speed Pro Street, Need For Speed World, Driver San Francisco and Assetto Corsa.
***Refer "readme.txt" for customization features and credits info. Thanks for download***
Bugs and some details...
Vinyl UV-Mapping may not be perfect but you can apply vinyls with no problem.
When you apply Ride Height to 100%, Front tires will clip with the front of the car when turning to left/right.
Did you find another bug? Let me know.
Installation
Every step and links to resources are fully detailed in "readme.txt". If you have a problem during installation, let me know.
Last comments
The car was requested by TEARSTREAT8015, which was taken from a little list of car ideas while we were talking on Discord... And no, this doesn't mean I will take requests now. This was an exception because I know him for a while.
The cleanest car I ever made in terms of customization. If you're looking for some fancy parts to customize, I'm so sorry but this is not a mod for you. It was done in this way intentionally, so I don't think I will add custom parts in the future... unless I get crazy.
As always... Do you think performance and/or sound can be improved? Feel free to edit, but please share to the community, so everyone will enjoy the mod.
Special thanks to...
TEARSTREAT8015: For being the player zero (a.k.a. mod tester).
SaberHS: for providing me NFS World 3d files and textures.

Viper4K: Rigged driver models.