Need for Speed High Stakes Downloads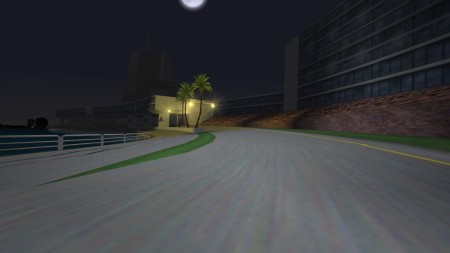 Atlantica ReVisited
Name of Designer: JimDiabolo aka GER_JimD
E-Mail: JimDiabolo@hotmail.de
Name of Track: Atlantica_ReVisited
Date of release: 16 May 2023
Latest verion: 16 May 2023
Version: 140
Replacement for : Atlantica
Modeled after: Atlantica & Aquatica
Preview video: https://youtu.be/D4ouUfaBtpw
Features:
- Textures Atlantica & Aquatica combined in one qfs file.
- Complete new track shape.
- Many 3D objects, including type 6 objects.
- Slide & vidwall pictures. Thanks to AJ Lethal for his guide.
- New shadows and lights.
- Bots can drive a full lap without crashing.
- Night version.
--> General Copyrights:
----------------------------
You may put this file on your website, as long as the package includes this readme, the slide & vidwal file!
Please respect that it took many hours to make it look, like it is now.
The contents are provided on an as-is basis, handle at your own risk.
--> Installation:
Just use the 'Import New Track' function from the NFS HS Mixer.
If you want to install manually follow these steps :
1) Extract "Tr.frd" and all other files to "X:\NFS4\Data\Tracks\Atlantic",
whereas "X:\NFS4" is the path of your NFS:HS-Installation.
2) Move the "T12.qfs" to "X:\NFS4\Data\FeArt\VidWall".
3) Move the "T12_00.qfs" to "X:\NFS4\Data\FeArt\Slides".
IMPORTANT : Looks best with 'View Distance' set to full and Night View Distance patch.
----------------------------
Credits and thanks to:
-Nappe1, Denis Auroux and Hoo for the Track Editor.
-Denis Auroux for the fsh tool.
-Fangio's for the Track design Tutorial.
-EA for the game.
-All at NFSaddons who gave me suggestions & help for t3ed & tracks.
--------------------------------------
Have fun with it,
JimDiabolo aka GER_JimD