Need for Speed High Stakes Downloads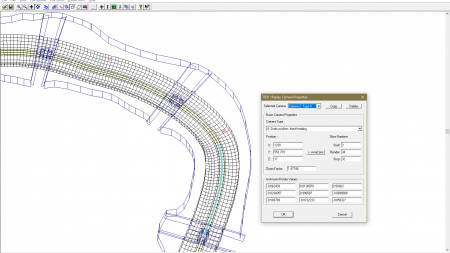 File updated on: June 7, 2022
The Need For Speed 3 / 4 Track Editor now with integrated Replay Camera Editor.

New in version 4.3.0 (386):
- Paste block to current vroad added.
- If you import a Vr_H_Spd.csv file with changed virtual road values, the track can be rearranged to that new virtual road. This can be used to change track shapes.
- Bug fix: Poly VR Flags will only be displayed for (black) track polygons. (Alt + enter)
- Bug fix for Pasting HS extra data (Number of lanes)
- New option: Set visibility minimum.
- New function: Copy & paste virtual road points. You can select what will be pasted. Position & vectors, Heights data, spdFa data, spdRa data or HS extra Data (Number of lanes)
- When converting (Global, extra & polygon) objects you won't lose shadow/color information anymore.
- The "Show track based on visibility" mode has been improved if a global object is selected.
- Several safety checks have been added to avoid illegal memory calls. I think this version has the best stability of the ones I made. If you find a error that can be reproduced please let me know.
- Integrated Replay Camera Editor:
* "Tr.cam" will be loaded / saved with the frd-file.
* Enable viewing cameras by "View -> Show Replay Cameras"
* Move, copy, and delete them like other objects.

* When a camera is selected a light blue line from camera start to stop will be display along the virtual road. You can adjust the cameras start and stop with (Alt) PG Up/Down keys.
* When you press "Alt" while moving a camera T3ED will adjust start, stop and render.
Version 4.4.0.390

uploaded June 7, 2022

JimDiabolo uploaded a new version. The new file is 1.64 MB.

New in Version 4.3.0 (393):
- Paste X & Y (Shift Y) and Paste Z (Shift Z) now uses the clipboard. Copy point to clipboard before (Ctrl C).
- Bug fix for entering move distance, directly after deleting a polygon.
- Auto adjust Z on virtual road points when moving (X & Y). Won't be done if Altkey pressed, or z is moved.
- Auto adjust Z when moving lane points (X & Y). They will be placed 0.025 above the track polygon below. If you don't want it press Alt while moving.

Version 4.3.0.390

uploaded May 27, 2022

JimDiabolo uploaded a new version. The new file is 1.64 MB.

A small update to Version 4.3.0 (390):
- Replay Cameras will be sorted.
- When saving: Show warning messages if track breaks limits. Which are 512 for crosstype 4 extra objects (collision) and 128 for crosstype 6 global objects. Thanks to Zalcus20 for the info.
- Bugfix when selecting blue polygons.
- Safety checks for the "Move" function.
- Improved "Paste Block" function.

Initial version

uploaded May 21, 2022

JimDiabolo, Denis Auroux, Nappe1, Hoo uploaded initial version. The original file is 1.63 MB.