Need for Speed High Stakes Downloads
2002 Pontiac Trans Am WS-6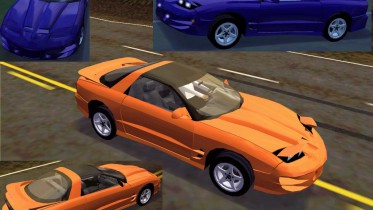 Author:
Dodge Boy
Added on: April 11, 2003
Viewed: 7,011 times
Downloaded: 1,594 times
Favorited: 0 times
Share this car:Click to copy URL
Dodge Boy went all-out with the detail on his latest car, and you can see the result: stunning in smooth- and sharpness. Not visible are the rear lights, also extremely detailed.
It has a damage model, but because it looks a bit odd, I'd recommend playing with damage 'off'.
Damage
Yes
Convertible
Yes
Dashboard
Yes
Class
A
Vidwall
Yes
Serial #
13
Windows
Clear
Licence Plate
Customizable
Top Speed
165 mph
265 kmh
Polycount
9985