Need for Speed High Stakes Downloads
1965 Mako Shark II Corvette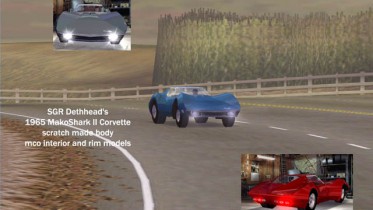 Author:
SGR Dethhead
Added on: October 2, 2003
Viewed: 4,376 times
Downloaded: 931 times
Favorited: 0 times
Share this car:Click to copy URL
This is my second car (or second anything on a 3d program). This prototype led to the C3 bodies. The body is scratch made by me, and the interior and rims are from MCO.
Damage
No
Convertible
No
Dashboard
None
Class
A
Vidwall
No
Serial #
30
Windows
Clear
Licence Plate
None
Top Speed
150 mph
240 kmh
Polycount
2000
Driver
Animated