Need for Speed Hot Pursuit Downloads
NFS2(SE) -> NFS3 Car Converter BETA1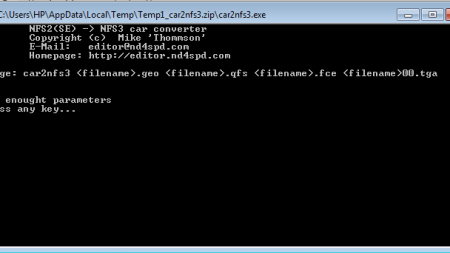 =================================================
= NFS2(SE) -> NFS3 car converter =
= =
= BETA1 =
= =
= Written by Mike 'Thommson' =
= =
= ©1998 Mike 'Thommson' =
= E-Mail: editor@nd4spd.com =
= URL: http://editor.nd4spd.com =
=================================================
=====
RULES
=====
- With the use of this program you accept the condition of daily visit of my
sponsor from my Homepage: http://editor.nd4spd.com/ !!!
- This program may only be downloaded from my homepage (http://editor.nd4spd.com).
- You may not make a link on your page to the car converter.
==========
DISCLAIMER
==========
No warranty of any kind comes with this file ! Its contents are
totally *unofficial*, and Electronic Arts has no responsibility
in all of this (they just made a fine game :-) Also, it is
illegal to use the information contained herein for commercial
purposes.
This program may not be sold, bartered, or distributed with
any other product for which any charge is made (other than
incidental charges for time spent on-line), but rather
must be distributed free of charge.
===========
DESCRIPTION
===========
This Program makes it possible to convert NFS2(SE) cars to NFS3 cars. This means
you can drive in NFS3 with cars from NFS2(SE). NFS2(SE) -> NFS3 Car Converter
can convert every car from NFS2(SE) also Cars, which have been created with CarEditor.
NOTE: The biggest Car Collection of NFS2(SE) cars in the World you can find under
following address: http://editor.nd4spd.com
===============
HOW DO I USE IT
===============
This program is hard to use for non-DOS users. I will try to explain so everybody
can undersant how to convert nfs2 cars to nfs3.
1. First of all create a directory where you will place nfs2 and nfs3 car files.
(for example C:\TEMPCARS\)
2. Copy this car converter to this directory.
3. Now you have to copy nfs2 car files (these are .GEO and .QFS files) to this
directory.
If you have nfs2 se you have to use CarEditor v0.55. Open a car with it and save it
as nfs2 car to in 1. created directory.
4. Open a DOS console (or START->Run.. dialog box) and go to the created directory.
To convert nfs2 car files (.GEO and .QFS) to nfs3 car files (.FCE and 00.TGA) run
the car converter folowing:
CAR2NFS3 .geo .qfs .fce 00.tga
Note: where the name the name of the car file is.
The first 2 parameters are the nfs2 car file, then folow the name of to create nfs3
model file and the nfs3 texture file.
5. After the succesefull conversion you will have to put the new .FCE and 00.TGA
files to a VIV file, to do this you can use my VIVEncoder/Decoder program or any
other VIV file editor (i.e. VivWizard).
Note: the FCE files are Model files, the TGA files are Texture files. It's not
enought to create a NFS3 VIV file. You must have a FEDATA.ENG, CARP.TXT, CAR.BNK,
OCAR.BNK, OCARD.BNK and SCAR.BNK files. FEDATA.ENG file you can create with
FedataEditor, CARP.TXT (Performance) files you can create with any carperformance
Editor and the Soundfiles (CAR.BNK, OCAR.BNK, OCARD.BNK and SCAR.BNK) you can make
by renaming the GENCAR.BNK, GENOCAR.BNK, etc (which are in the GAMEDATA/AUDIO/SFX
directory).
==========
KNOWN BUGS
==========
- no light dummy
- bad texture
- bad wheels
- manual viv file creating
- no normal vectors
- cant convert traffic cars
============
IMPROVEMENTS
============
- first release