Need for Speed Hot Pursuit Downloads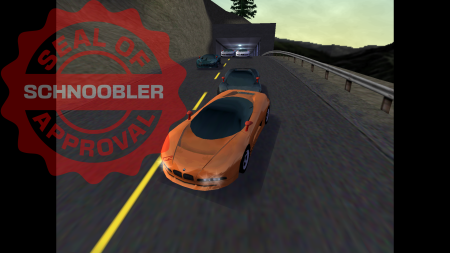 Views 1,471
Downloads 174
High quality model as EA G.L.97 replacement plus a few minor fixes. His original mod is linked here:
https://www.nfsaddons.com/downloads/nfshp/cars/italdesign/5611/italdesign-italdesign-nazca-c2.html

EXPECTS SERIAL NUMBER 29, CHECK FOR COMPATIBILITY (It will seamlessy override G.L.97's and AJ's mods anyways, since all 3 use same S/N and ID)
Stats:
512x texture for high quality texture mod on VEG patch
256x texture can be used instead by renaming CARGAR.TGA
2721 total combined polygons for compatibility with unpatched game:
1431 polygons for high quality model (LOD0)
789 polygons for medium quality model (LOD1)
489 polygons for low quality model (LOD2)
12 polygons for tiny model (collision)
Dashboard is carried over vrom G.L.97's mod cos its immaculate quality.
Sound is custom for the player, AI is still G.L.97's.
Loading slide included in PSX style
Accuarate performance for the actual 1991 Coupe model
Colours for the whole AI with real BMW shades
Compare picture (guess) is also from G.L.97
Rim texture made by Schnoobler
Imporant notes:
Make sure you install GL's Nazca mod first, as I'm not including any file that I had not modified first so you will have missing parts of the showcase.
The sound and dashboard are mostly carried over simply for ease of usage, so anybody can play without opening the .VIV file.
Also not modified by me is the compare picture, instead I included NFSF1McLaren's files from his Ferrari F50 (which includes GL's and Schnoobler's cars), again for ease of use. Still, download his mod if you haven't (https://www.nfsaddons.com/downloads/nfshp/cars/ferrari/7557/ferrari-1995-ferrari-f50.html) cos it's awesome.
Loading pic was also provided by GL, so all I had to do was set to PSX format, restore the red mirrors and the NAZCA script on the skirt.
Car Performance is carried over from GL's as well, but it has been revised to match the actual 1991 Coupe's specs. This is where even EA's team got it wrong, by giving the car the 1992 Spyder's specs instead. The 1991 Coupe had instead the 5.0 litres engine with 5 speed manual transmission, resulting in slower acceleration overall, and 40kg more of mass. I am unaware if the coupe itself was later modified to carry the larger 5.7 litre engine and that was what EA got, but I'm going purely for 1991 specs.
So, then what did I actually do for this one? The model. Yay. That's made from scratch, using an available set of blueprints which had some wild variance on some parts. Oh, also it has red mirrors now and that's restored on the showcase pics, where they had been artificially greyed out.
Real BMW colours have been given for the AI to have their intended shades, plus M1 Orange and Techno Violet are included for the player -and serve as nod to the original PSX version.
Also as mentioned earlier, Schnoobler made the texture rim, and both him and McLaren provided feedback and beta testing as it's been the trend for quite a few cars now.