Need for Speed Hot Pursuit Downloads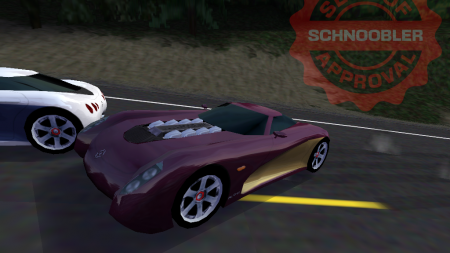 Added On November 3, 2022
Views 3,443
Downloads 279
Higher quality model as EA replacement plus a few minor fixes. This time the model resembles much more closely the PSX version, as well as taking cues from the sketches that Andy Lang published.
Stats:
512x texture for high quality texture mod on VEG patch
256x texture can be used instead by renaming CARGAR.TGA
3106 (3194 for pursuit) total combined polygons for compatibility with unpatched game:
1662 (1710 pursuit) polygons for high quality model (LOD0)
934 (958 pursuit) polygons for medium quality model (LOD1)
498 (514) polygons for low quality model (LOD2)
12 polygons for tiny model (collision)
Sound was left unmodified as it was on spec (?)
Slighty tweaked dashboard, now all gauges are the same colour, plus they don't sit at 0
Major performance tweaks to archive greater cornering capabilities, while keeping AWD drivetrain. This makes it still retain some of the understeer/oversteer play, but much more reliable.
Colours follow the PSX list (with a few tweaks™) as well as adding white and black tones for Ram Rod and Ace.
Rim texture made by Schnoobler.
Included also a more accuarate PSX loading slide from an early dev's leftover (which I didn't have) and also the police version as well, adjusted to the updated livery.
Forgot to add the most deserved thanks to Schnoobler and NFSF1McLaren who had great input in decision making, colour matching, and keeping me on rails.