Need for Speed Hot Pursuit Downloads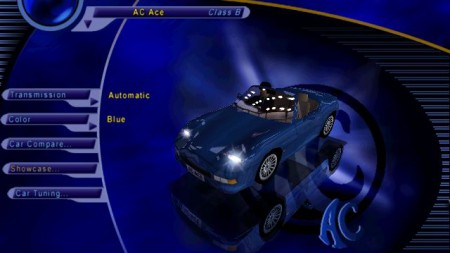 Added On January 20, 2022
I tried to give this car real technical settings, so don't change them.
The AC company was founded in 1901, and they were one of the largest English car building company during the 20's. The first AC Ace appeared in 1931, few years after the first AC Aceca. The company has always kept the same car names, and they keep doing it today. In fact this company became famous all around the world because of one car : the 1953 Ace. The Ace was equipped with a 6-inline Bristol engine. But in 1961, Bristol stopped providing them the engine. Fortunately, Caroll Shelby was looking for a small chassis, to build a light and powerful sportcar. It should be the Ace... renamed Cobra by Shelby.
Today, AC produces three models: the Ace, the Aceca (4 seats coupe, derived from the Ace), and the Superblower/Mark II FIA 289 Roadster (Cobra replica, 25 exemplaries of Mark II, sold £ 140000, not including taxes and engine...)
The Ace can fit with three Ford engines: a 5 l V8 (240 hp), a 4.6 l V8 (320 hp), and a 5 l V8 Supercharged (340 hp).
Two gearboxes are available: a Borg Warner T50D (5 speeds manual) and a AOD (4 speeds automatic)
Using the manual gearbox, the Ace reaches 60 mph in 5.5s, and the top speed is retricted at 155 mph.
The equipment includes manual gearbox, air conditioning, variable power steering, ABS, leather interior, electrically operated soft top, alloy wheels, and so on ...
---
This car has been built from my Griffith 500 (itself from EA's Jaguar XK8)
I used the following tools:
CardCad v1.4b
MRC Cartool
VIV Wizard v0.8
Breeze designerV2.05 and POV-RAY V3.0 for dashboard and steering wheel
I needed many many hours to build and test it.
I have chosen to consider this car as a class B, although it's in fact between class B and class C. It's a slow class B or a fast class C. If you feel some difficulties to race with this car as a class B, you can change it into a class C, by using Viv Wizard. It's also the reason why it's not available to AI drivers: they are often slow with any car, and therefore, they are not competitive with the Ace, unless if you use it yourself. Racing with a F355 when the computer uses an Ace is too easy. But if you decide to use the Ace as a class C, you can make it available to AI drivers, because beating the computer will be a good challenge if you use a slower class C car.
---
Thanks to:
AC Car Group Limited : few car manufacturers publish complete and free information on their site.
All the authors of Carcad, VivWizard ... and so on...
The Webmasters who will accept this car for downloading.
Hope you'll enjoy !