Need for Speed Carbon Downloads
2009 Pontiac Solstice GXP Coupe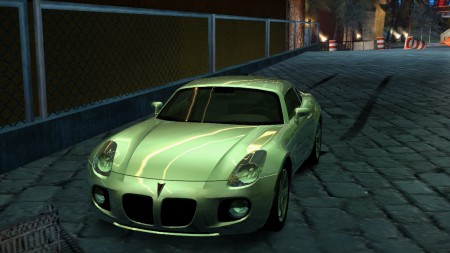 Views 3,464
Downloads 448
This car replaces None (Addon car)
2009 Pontiac Solstice GXP Coupe [XNAME: SOLSTICE09]
***DON'T UPLOAD THIS MOD IN ANOTHER SITE WITHOUT MY PERMISSION***
***BEFORE YOU DOWNLOAD: I'm not sure if this mod is Compatible with Improvement Mod or Endgame Mod, since it was tested on base game. Downloading and installing this mod means that you take the risk***
***MOD NOT COMPATIBLE WITH THE LATEST VERSION OF CARBON BATTLE ROYALE. DON'T ASK FOR SUPPORT FOR THAT MOD***
Conversion from Driver San Francisco, with some parts and textures from Forza Motorsport 4 and Need For Speed Undercover.
***Refer "readme.txt" for customization features and credits info. Thanks for download***
Bugs and some details...
Vinyl UV-Mapping may not be perfect but you can apply vinyls with no problem.
Small issue with front decals.
Did you find another bug? Let me know.
Installation
Every step and links to resources are fully detailed in "readme.txt". If you have a problem during installation, let me know.
Last comments
For so much long time ago, I wanted to make a car from the brand Pontiac, but never found the motivation to do it, even when there are pretty cool cars.
The mod was finished time ago (actually 8 or 9 days after the C8), but I forgot to upload it. I have a couple of mods that are pending to be uploaded, I'm just in the wait of test results.
Debug included for those who make custom vinyls. As example, you have a design I did inspired by the D1 Red Bull Solstice. I'm sure you will make great custom wraps.
Request are CLOSED.
As always... Do you think performance and/or sound can be improved? Feel free to edit, but please share to the community, so everyone will enjoy the mod.
Special thanks to...
TEARSTREAT8015: For being the player zero (a.k.a. mod tester).