Need for Speed Carbon Downloads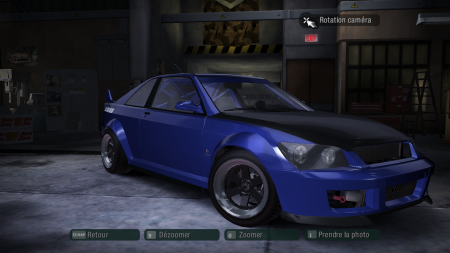 Added On February 7, 2019
Views 1,206
Downloads 138
Version Carbon
Brand Other
This car replaces Renault Clio V6 (CLIO)
2008 Karin Sultan RS MK-III
Replaces: Renault Clio V6
Converted From: GTA IV
Features:
- Working Brakelights Texture
- NFS Carbon Driver
- Proper Secondary Logo
- Proper Manufacturer Logo
- LOD Parts
- New Performance
- Uninstall Archive
Customization:
- Rims
- Performance
- Paint
- Rim Paint
- Window Tint
- Hood
Note:
- For having 3 Differents colors do the following steps:
1- Go in "Visuals" then "Vinyls" and search "Shape"
2- Apply "Shape 1" and change the color.
3- Increase the scale until some parts change of color.
4- Move "Shape 1" on the right or the left until some parts change of color.
5- Do the same steps for having 3 different colors.
Credits:
nfsu360: NFSC ModTools, Texture Compiler, NFS-VltEd 4.2
Oleg Melashenko: Zmodeler 2.2.6
Ton Roosendaal: Blender 3d 2.78a
[G4M]Famous-_-Ademo: Converting And Editing For NFS Carbon.
Glory For Modding.