Need for Speed Carbon Downloads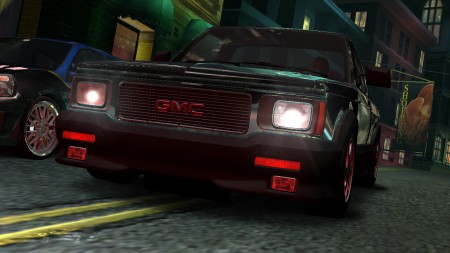 Views 2,706
Downloads 461
File updated on: August 20, 2020
This car replaces None (Addon car)
1992 GMC Syclone [ADDON]
***DON'T UPLOAD THIS MOD IN ANOTHER SITE***
***BEFORE YOU DOWNLOAD: I'm not sure if this mod is Compatible with Carbon Battle Royale, Improvement Mod or Endgame Mod since it was tested on base game. Downloading and installing this mod means that you take the risk***
Conversion from Forza Motorsport 4.
It's an Addon, so it doesn't replace anything, but you will need some stuff to make it work correctly.
What does it have this mod?
-Custom Performance Data and Sound.
-Aftermarket [Rims]
-Visuals [Everything]

Special Things
+Need For Speed Undercover's Driver.
+Working Brakelight texture.
+Cops call this as "Sports Car".
+Proper Window Damage.
+Unlocked in Bronze Challenge Cops Destroyed.
Bugs and some details...
-In Performance section, when you upgrade induction, it shows SUPERCHARGER although the Syclone has turbo in real life. This is due to brand region in frontend node and Unlimiter, which apply Supercharger for american brands and Turbo for the others.
-Vinyl UV Mapping may not be perfect. Still you can apply vinyls with no problem.
-Hood camera is not perfect, I used pickupa's hood camera. Looks kinda weird but was the best option.
Did you find a bug? Please comment.
Installation
Every Step is fully detailed in "readme.txt". If you have problems, feel free to comment
Last comments
+UPDATES:
August 20th, 2020
- Added support for Binary v2.1.0.
- Minor changes in VltEd script.
- New VltEd interface.
I placed the GMC Syclone in a Tier 2 because it has a great acceleration that makes it competitive with other T2 Cars.
Also, cops call this pick-up as "Sports Car" since there's no Verbal Type for "GMC" or "Chevrolet".
And as always... Do you think performance can be improved? Feel free to edit, but please share to the community, so everyone will enjoy the mod.
Credits
+Turn 10 Studios.
+Cyrax: Ripping the model.
+Oleg: ZModeler 2.2.5.
+Make Davis & JYSB59: Forza Studio 4.6.
+dotPDN LCC.: paint.NET.
+nfsu360: NFS Carbon ModTools v1.1, NFS CarToolkit v2.8, NFS VltEd v4.5, NFS-TexEd v0.9.1 and v1.1.
+maxhwoy: Binary v2.1.0.
+Electronic Arts: UC's Driver and License Plate (Model and Textures).
+Henry_Allen05: Conversion to Need For Speed Carbon.
Version 1.2

uploaded August 20, 2020

Henry_Allen05 uploaded a new version. The new file is 3.85 MB.

Version 1.1

uploaded July 9, 2020

Henry_Allen05 uploaded a new version. The new file is 3.83 MB.

Initial version

uploaded July 8, 2020

Henry_Allen05 uploaded initial version. The original file is 3.83 MB.