Need for Speed Carbon Downloads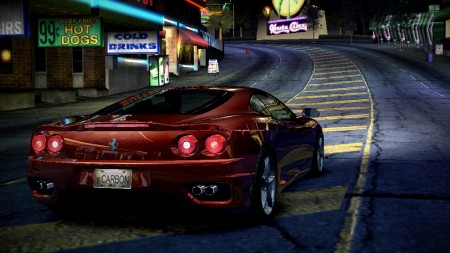 Added On November 27, 2022
Views 2,946
Downloads 424
This car replaces None (Addon car)
1999 Ferrari 360 Modena [XNAME: 360M]
***DON'T UPLOAD THIS MOD IN ANOTHER SITE WITHOUT MY PERMISSION***
***BEFORE YOU DOWNLOAD: This mod was developed and tested on a clean game with the most recent version of Extended Customization and under the limit of 44 car addons. Compatibility with other big mods is not guaranteed. Downloading and installing this mod means that you take the risk***
***MOD NOT COMPATIBLE WITH THE LATEST VERSION OF CARBON BATTLE ROYALE. DON'T ASK FOR SUPPORT FOR THAT MOD.***
Conversion from Real Racing 3, with some parts from Need For Speed (Carbon, ProStreet, Undercover, World and Heat Studio).

***Refer "readme.txt" for customization features and credits info. Thanks for download***

Bugs and some details...
Vinyl UV-Mapping may not be perfect but you can apply vinyls with no problem.
Did you find another bug? Check "Q and A.txt", maybe the problem you are having is there, otherwise don't hesitate to let me know.
Installation
Every step and links to resources are fully detailed in "readme.txt". If you have a problem during installation, let me know.
Last comments
The idea about making this car was something like "What if EA didn't lose Ferrari License", and this car immediately came to my mind.
Heat Icon in main picture means this car has limited customization.
A limited customization car mod was made this time. Don't worry, next time I'll try to bring a new car mod with more customization.
Small note: just like the Miura I did before, if you're looking for some radical and/or fancy parts to customize, I'm so sorry but this is not a mod for you. It was done in this way intentionally, so I don't think I will add custom parts in the future.
Requests are CLOSED for now.
As always... Do you think performance and/or sound can be improved? Feel free to edit, but please share it to the community, so everyone will enjoy the mod.
Take a look at these mods, maybe you like one of them: