Need for Speed Pro Street Showroom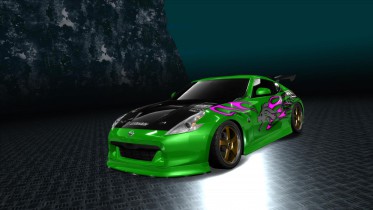 Owner: Brand60Brand60's garage
Viewed: 395 times
Share this showroom:Click to copy URL
Nissan 370Z (also known as Fairlady Z) is a sports car from Nissan that entered production in December 2008. Replacing the 350Z, the 370Z is currently the newest model in the Z model range and is offered as a coupé and a roadster.
The 370Z is powered by a VQ37VHR 3.7L V6 engine and can be ordered with Nissan's
SynchroRev Match, which automatically "blips" the throttle when
downshifting to remove the need for heel-and-toe footwork. It received a
significant facelift as part of a 2013 model refresh.
Nissan had partnered with EA as a part of their marketing strategy by introducing this car into Need for Speed: Undercover before its release as well as the Takedown mini-series by EA to help advertise the car.
This resulted in players having the chance to drive the car in-game before it hit the streets
The vehicle was unveiled in 2008 Los Angeles Auto Show, with sales of North American model began at Nissan dealers in early 2009.
Standard and optional equipment includes 19-inch RAYS wheels, Bluetooth, Sirius/XM satellite radio, heated electric seats, viscous limited slip differential, Bose sound system with dual subwoofers and 6-CD changer, and automatic climate control.
Deliveries of the European model began in April 2009