Need for Speed Pro Street Showroom
Brand60's Subaru BRZ Premium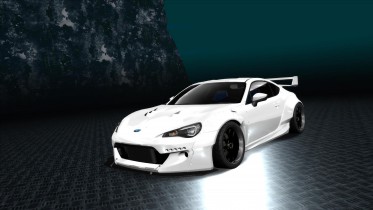 Owner: Brand60Brand60's garage
Viewed: 799 times
Share this showroom:Click to copy URL
Subaru BRZ is a sports coupé developed between Toyota and Subaru.It is produced at Subaru's factory in Gunma, Japan. Worldwide, it is sold under differing model names and brands such as the Toyota GT86 and the North America-only Scion FR-S,

although each model is sold with slight differences between each. In

the United States, the BRZ is available in two trim levels - Premium and

Limited, with the latter featuring more standard equipment. The BRZ

was primarily designed to feature outstanding handling capabilities,

much like the highly regarded Toyota Corolla sport compacts

of the 1980s. It is built on a light RWD platform with a low-sitting

Subaru flat-four engine to allow for a low center of gravity.

Inspirations for the exterior design were taken from the side profile of

the Toyota 2000GT, a highly sought-after grand tourer of the 1960s. The

BRZ's name comes from three elements: Boxer engine, Rear-wheel drive, and Z

standing for the zenith.The Subaru BRZ differs from the 86's design in

the front fascia, with a different grille and headlight assembly, as

well as a different front fender vent. The BRZ's grill is hexagonal in

shape, compared to the Toyota's trapezoid. The BRZ features a wraparound

of LED parking lights in the headlight assembly, while daytime running

lights are integrated into the bumper. The suspension setup of the

Subaru is different from the Toyota.Like the Japanese Toyota 86, Subaru

offers an RA base model lacking most interior comforts and utilizing

16 inch steel wheels, with the only difference from the 86 RC being that

the BRZ RA's bumpers are painted the same color as the body. Two main

trim levels are offered: R trim, known as Premium in North America, and S

trim, known as Limited in North America. European and
Australian

BRZs offer a Toyota stereo unit, while Japanese and North American

vehicles use a Subaru unit. Australian BRZs were originally available

for sale only online. In 2013, Subaru unveiled a BRZ tS model for the

Japanese market, tuned by STI. The tS model features an improved

suspension setup, 18 inch silver BBS wheels, STI bodykit and front spoiler, a larger drive shaft, and Brembo
brakes,

along with interior changes including a new steering wheel, front seat,

gauges, and Alcantara accents. A further tS GT Package includes Recaro seats, black BBS wheels, and an adjustable carbon fibre

rear wing. The tS is limited to 500 units in total, with a maximum of

250 of them being the GT package. In 2015, a similar release of 300

units was sold again only in Japan. In 2014, as part of running changes

consistent with those of the MY15 Toyota 86 GTS, the Subaru BRZ also

featured a new key fob and two new colours, including 'WR Blue Pearl'

metallic finish. In addition, Subaru also launched special editions both

for the United States and Australia markets. For the former, one

thousand BRZ Series. Blue editions were marketed at additional cost,

half painted in Blue Pearl and the other half in Crystal Pearl White.

This model featured STI body kit parts, 17-inch STI black alloy wheels

and red brake calipers. For Australia, Subaru launched a similar variant

known as the Special Edition, also at additional cost. It featured

stripes across the bonnet, boot and roof; 17-inch STI black alloy

wheels; STI boot spoiler plus front, side and rear-side under spoilers; a

rear diffuser and a push-button starter switch. It was available in

every existing BRZ paint hue. In 2015, Subaru released the limited

edition Hyper Blue range across its WRX, WRX STI and BRZ models.

In Australia, the BRZ was limited to 50 units with manual transmission

only. This limited edition is characterised by the said blue paint and a

host of other cosmetic upgrades. In February 2018, Subaru of America

released a limited edition SOA 50th Anniversary edition BRZ based on the

Limited trim level featuring Heritage Blue exterior color, satin chrome

exterior trim and badging; and SOA 50th anniversary emblem. The

interior features black upholstery with contrasting silver stitching;

silver seatbelts; and the 50th Anniversary logo embroidered on the front

seats and carpeted floor mats. Only 250 were made.