Need for Speed Pro Street Showroom
Brand60's Toyota Supra 2JZ BiTurbo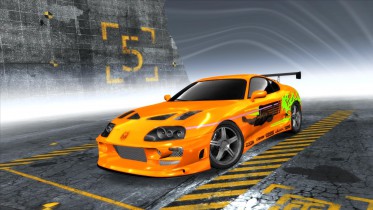 Owner: Brand60Brand60's garage
Viewed: 417 times
Share this showroom:Click to copy URL
Following the destruction of Brian's Mitsubishi Eclipse was destroyed by Johnny Tran and his group, he asked his commanding officer, Sergeant Tanner for another car to repay Dominic Toretto with. When he arrives to Dominic's garage, he brings the Toretto's a rusted Supra taken from a junk yard. Dominic and his friends spent about $15,000-$20,000 on restoring it. In reality, they actually spent over $100,000.

When they're done the car is so fast it's able to smoke a Ferrari in a street race. Towards the end of the movie Brian and Mia Toretto use the Supra to rescue Vince from the semi-truck. Brian later uses the Supra to chase down Johnny Tran and his cousin Lance through the suburbs of Los Angeles when they do a drive by at 1327, killing Jesse.

Brian shoots Tran in the back causing him to fall off his bike, killing him. He tells someone in a car to call 911 and meets up with Dom at a red light. Dom tells Brian how he used to drag there during high school and when the light turns green he's going for it. They both rev their engines and when the light turns green they step on the gas, using the rail road track down the road as a finish line.

They both hear a train coming and step on it. Right as the train passes they dodge it with only a few feet between them and the train. Just as everything is calm a semi-truck comes out of a corner causing Dominic to crash into it. It sends his 1970 Dodge Charger R/T flying in the air, and crashes. the car flips a few times before it stops. Brian then gets out of the car and runs to Dominic

He helps Dominic out of the car and he only has a few cuts and an injured arm. They hear sirens in the distance. Brian looks at Dom with concern. He then gives him the keys to his Supra and says that he owes him a ten second car. Dom drives off into the distance as Brian watches him and then walks off.