Need for Speed Carbon Showroom
MuscleCars_V8's Jaguar XK120 SE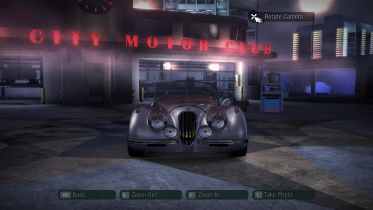 Jaguar XK120 SE
_____________________________________________________________________________________________________________________
Tutorial by: Henry_Allen05
Old mods that use *.exe to install themselves are not compatible with files that were modded with VltEd (Redux is one of them).

You can still install this and other old mods, but I can't assure if they will work with Redux. If you still want to take the risk and try to install these are the steps. Keep in mind that some features of Redux won't be available on this car (I mean, this mod is really older than Redux).
0. Go to Game folder (Example: C:/Program Files (x86)/Electronic Arts/Need for Speed Carbon/CARS), and look for the car you are going to replace (RX8 in this case). Make a backup of the car folder (in case you want to restore original car). Then, make a backup of GLOBAL folder, since you are going to edit many files. THIS STEP IS VERY IMPORTANT if you want to get a previous state of the game.
1. Open VltEd as administrator, to make sure every change is saved.
2. Click File -> Import -> NFS: Carbon Car Settings
3. Select the file with extension *.carbon, which is included in "mod" folder, in the downloaded file. Every change will be set in the script editor.
4. Click File -> Save, or Ctrl+S.
5. Copy GEOMETRY.BIN and TEXTURES.BIN from downloaded mod into car's folder from game (Example: C:/Program Files (x86)/Electronic Arts/Need for Speed Carbon/CARS/RX8).Run the game, and look for the car. If you didn't have problems, this car will be shown instead of original Mazda RX-8. To restore original files in case the mod didn't work, just copy and paste the backups you did in step 0. In the worst case, if you didn't make the backup or game stopped working (which is part of the risk) and want to go back to a previous state, you have to reinstall the game and Redux again.