Need for Speed Projects
Need for Speed Most Wanted Brasil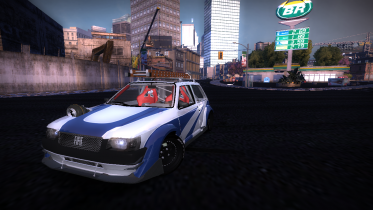 Brasil. (we write it with S)
8th largest country in the world. In it's prime, was the 8th economy in the world.
Our gasoline is one of the most expensive in the world, and its quality is also one of the worst in the world (it looks like it is mixed with urine)
Because of this, we don't have many cars with big engines (many of the so-called 'popular cars' are equipped with 1.0L I4 engines and little power (not even close to 100cv)
Our econony also doesn't allow us to had RWD and AWD cars (thanks to VW, Chevrolet and Ford we had RWD cars)
Our market was closed to imported products from 1964 to 1990, so it took a while to have some technologies (Our first car equipped with electronic fuel injection was the Volkswagen Gol GTi, in 1988, nowadays this car is one of the most expensive classic car in Brazil)
Our best-seller car ever is the Volkswagen Gol(yes, Gol, not Golf), over 8-million units since 1980, in seven generations.
Gol is also the most tuned brazillian car (We can extract almost 1000cv from it's 1.8L I4 EA827 engine)

Our car culture is so strange (the average car guys likes lower ride height, a powerful stereo and big rims, but we have some really weird things, like some 20-inch Volkswagen Acapulco rims in a lowered Ford Fusion)
And for normal Brazilians, who consider cars only as a means of transport, a good car is the one that crosses the Amazon River pulling a truck loaded with wood logs, and that manages to go at least 30 years without making a single oil change.

As you can see, Brazil does not appear to be anything special at first glance.

But the biggest country in Latin America has something to offer: Street's Prodz Brasil presents: Most Wanted Brasil, the biggest Brazilian mod for Need for Speed, and one of the biggest in the world (when finished)

Most Wanted Brasil gives you the best of both worlds: It brings the best of Brazilian memes (It's a meme mod, just like Pepega), as well as a new story inspired by the Brazilian reality:

São Paulo, 2013. There's a racer guy, running in a full-tuned Fiat Uno (Our most famous meme is the Fiat Uno with a ladder on the roof: Known as the car of internet companies, when given a ladder, it becomes the fastest car on the planet, making more than 200 kilometers per liter of cachaça)installing internet services at the speed of light, working for Telewebs Comunicações (a fictitious internet company)
He quits his job and takes the Fiat Uno 'Unlimited Power' (An Uno with a ladder prepared with a giant turbo and four bottles of Nitro. It's power? Only God knows...)to take over the streets.
On Sampa's streets, there's a notorious driver's club called Lista Negra (Blacklist in portuguese, simply.) with the best racers in the city. On the bottom of the list, there's a strange guy. His name is João, a.k.a. Jão. He has a 1978 Chevrolet Opala, that was a gift from your late grandfather. It has a high-end tuned engine with 900cv, but Jão can't handle it's heavy fuel consumption. He used to work at Simas Turbo tuning garage (this name in portuguese is a pun for... manual labor... if you know what I mean...) but he was fired after hitting a customer with a wrench (the customer wanted to pay for the dynamometer adjustment services with an old Fiat Marea 1.8)

He managed, with a lot of effort, the 15th position on the 'Lista Negra', but he is no longer able to refuel his car, because at that moment, Brazil was going through a fuel crisis.
His best friend, Henrique, a.k.a. Stricker, also spent all his money on car stereos in his 2004 Volkswagen Golf MK4, hasn't had any engine upgrades, and is failing to win races.
During a car meet, Jão and Stricker meet a mysterious rich guy called Maurindo, a.k.a. Drago.
Drago helps them both financially, but knows they will never repay him if they do nothing. Here comes the protagonist, who after defeating Stricker in a race, hears about the Black List and decides to go to the place where those drivers were. Suddenly, a pink 1995 Honda Civic VTi appears. A girl comes out of it: her name is Andressa. She starts teasing Jão, saying that he is nothing, and that the protagonist would make him eat dust. The protagonist decides to try for Jão's position on the Black List. He, however, says that the protagonist needs to earn more races and more respect.

During a race in downtown São Paulo, the protagonist meets Rogério, who was once on the Black List, but ended up defeated by Jão and was harmed by a 'wrong bet'. Rogério owns a 1999 Volkswagen Parati GTi.
Rogério says for him to take care when racing for positions in the Black List.

Meanwhile, the Federal Police starts a mega operation to end street racing in São Paulo. This operation, led by Sergeant Luiz Augusto, aims to dismantle the Black List and put all these pilots in jail. Luiz already has knowledge of Jão, and of the protagonist, and is willing to do anything to arrest them.

One day before the race, Jão, Drago and Stricker, while drinking in a pub, decide to 'sabotage' the engine of the Uno Unlimited Power to ensure that Jão wins the race, where the car documents would be in the bet.


Andressa knows about the sabotage and tries to warn the protagonist, but the Uno's engine blows at the end of the race. (In Brazil, it is not normal for a Fiat Uno to have engine problems.)

While Jão was still celebrating the 'victory', Sergeant Luiz Augusto appears and gives a voice of arrest, but everyone manages to escape, except the protagonist, who is arrested in the act.

Ten years have passed, the protagonist is finally released. Jão is now number 1 on the Black List, using Uno Unlimited Power, but he no longer has a good relationship with Drago, who is number 2, but is no longer happy with the 'profits', and wants to try to get Jão out of the first somehow.
Andressa goes to the prison to help the protagonist. She gives him a car and a garage in Osasco (one of the cities in the metropolitan region of São Paulo), so he can start his journey again, and retrieve the legendary Uno with a ladder.

Have all the experience that only the largest country in Latin America can provide! This is Need For Speed ​​Most Wanted Brazil!

Features:
90 cars: imported cars, muscles, exotics, JDM's, and many, many brazillian classics!
Realistic Performance: every car has it's own engine power and torque, according to the real life
New map textures: You will feel like you are really in Brazil!
New themed vinyls: The best of the Brazillian Car Culture!
New Tuning Options: Steering Wheels, Sound System, Gear Knobs, Roll-Cages and more!
Dubbing: All career mode voice messages in Brazilian Portuguese
Cutscenes: We didn't know how, but we'll make our own brand-new cutscenes!
Harder Difficult: Expensive Parts, Low Money - A satire on the sad reality of Brazil
Harder Drivers: Keep an eye out for these little turbocharged cars with 600hp!
Harder Pursuits: Feel all the fury of the Brazilian Police!
New Blacklist: From youtubers to a birthday gift - common people, people like us!

I'm using some other mods, and i'll give the credits when finished, don't worry!
I hope you like it! Brazil is now more than soccer and samba!