Need for Speed Underground 2 Downloads
2013 Toyota Land Cruiser Prado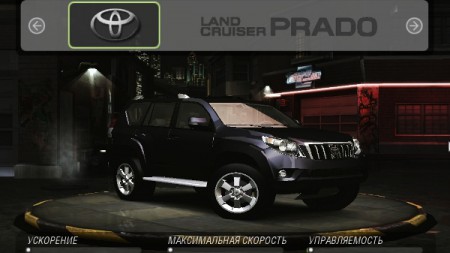 Version Underground 2
Brand Toyota
This car replaces Hummer H2 (HUMMER)
Toyota Land Cruiser Prado is converted from Forza Motorsport 7. Replaces Hummer H2.
Tuning:
- Performance
- Painting, tinting, vinyls
-Bumpers, skirts
- Roof rack and baffles (rear optics styling)
- Spoilers
- Air intakes
- Decals
- Neon bottoms
- Mirrors
- Exhaust
- Disks and spinners
Features:
- Driver from NFS UC
- All levels of detail
How to install: 1) Extract the HUMMER folder from the archive to the CARS folder.Use NFS-CfgInstaller to install Spano.u2car.
2) To set the auto-type logotype by the NFS TexEd program, open the Frontb.lzc file in the FRONTEND folder, find line 46, and import the file of the same name from the archive into it.Save.