Need for Speed Underground 2 Downloads
1999 Nissan Silvia S15 Spec.R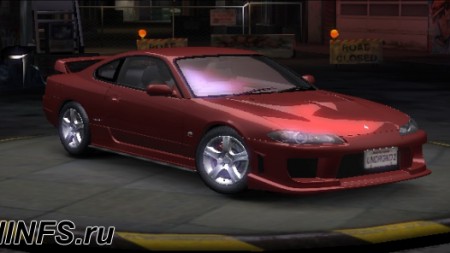 Version Underground 2
Brand Nissan
This car replaces Mitsubishi 3000GT (3000GT)
Nissan Silvia S15 Spec.R Converted from Juiced2 HIN. Replaces 3000GT.
Tuning:
-Bumpers -Thresholds
-Spoilers
-Air
intakes
-Wheels
-Exhaust pipes
-Mirrors
-Hoods
-Perfomance
-Neon
-Doors
-Double hoods
-Spinners
-Painting work
-Toning
-Light headlights
-Nitric oxide purge
-Neon engine
How to install:
- 3000GT folder in the CARS folder in the game directory.
- Install the s15.u2car file using the NFS-CfgInstaller.exe program.
- Set the logo of the car model, for this, open the FrontB.lzc file with the NFS-TexEd program and import the SECONDARY_LOGO.dds file into line 455.Save.