Need for Speed Underground 2 Downloads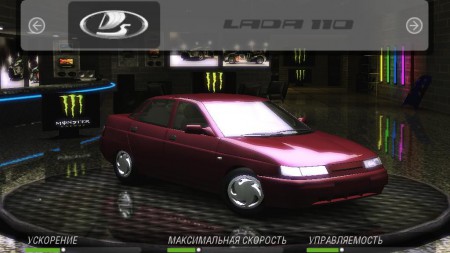 Views 1,363
Downloads 181
Version Underground 2
Brand Lada
This car replaces Nissan 350Z (350Z)
This car was converted from Lada Racing Club and GTA San Andreas by YochiThMaster333 aka Eevee (me).
Replaces: Nissan 350Z
Tuning:
Front Bumpers
Rear Bumpers
Side Skirts
Spoilers
Hoods
Roof Scoops
Headlights
Taillights
Side Mirrors
Muffler Tips
Rims
Carbonfiber parts
Wide Bodykits
Performance
Paint
Vinyls
Decals
Neon Glow
Window Tint
N2O Purge
Hydraulics
Features:
NFS:UC driver model
Stock maroon color
Known bugs:
Manufacturer logo will also change on 240SX, Sentra and Skyline.
How to install:
Extract 350Z folder into game directory/CARS
Run NFS-CfgInstaller.exe
Press Select configuration file, choose lada110_install.u2car, then press Install and find path to game directory.
With NFS TexEd, open FrontB.lzc, find textures ID 106 and 366, and replace with CARSELECT_MANUFACTURER_NISSAN.dds and SECONDARYLOGO_350Z.dds respectively. Save
Run the game and choose Nissan 350Z. Lada 110 will be visible instead of Nissan 350Z.
FAQ:
Q: What is game directory?
A: That's the folder where your NFSU2 installed
Uploaded on:
nfsaddons.com (this site)
nfscars.net
nfsmods.xyz
Please don't reupload to these sites.
Thanks to:
nfsu360 for his NFSU2 ModTools
Oleg M. for Zmodeler